I may earn money or products from the companies mentioned in this post.Please click my Disclosure Policy to learn more
Haus Labs Foundation Review for aging oily Skin. This foundation is clean, lightweight, and has medium buildable coverage.
Hello all, thank you for stopping by.
I am very excited to share this Haus Labs foundation review with you. This a super buzzed-about and popular foundation. And let me tell you, there is a good reason for it.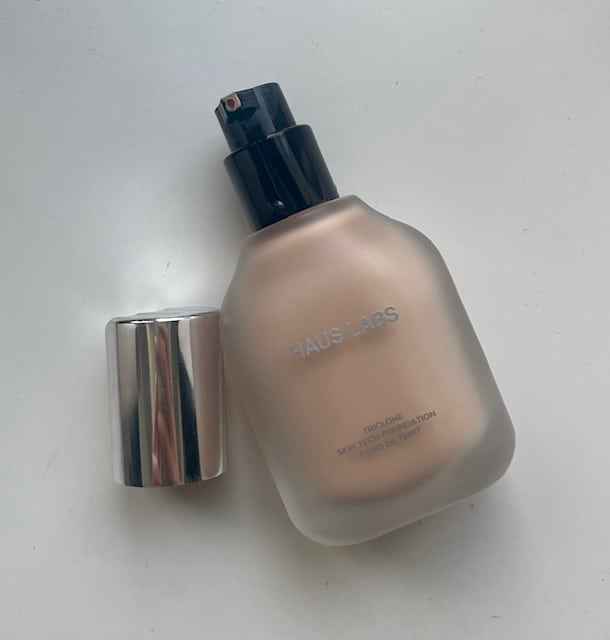 First things first, the purpose of this Haus Labs foundation review is to give some insight into how the product works and performs on my particular skin type, which is oily and aging (I just turned 40).
I want to help those of you wondering if this foundation will work for you. Trust me, there are times I have bought a foundation on a whim, and unfortunately, it turns pretty sour.
Reviews are extremely helpful and can help you weed out products that won't work for you and your personal preferences.
Now, of course, I have to throw out a quick disclaimer.
This is my 100% honest review. It's what I think about the foundation in regard to my skin type, which is oily and aging. (a real dynamic duo, huh?)
This is my experience with the Haus Labs Triclone Skin Tech Medium Coverage Foundation.
There is no guarantee that what works for me wit work for you. So, gather your thoughts and make sure to do your own research before committing to purchase.
Understanding Oily Skin and Its FOUNDATION Challenges
I think it's beneficial to share a few keep points about oily shin and some of the makeup challenges that come along with it.
Characteristics of Oily Skin
Skin that produces too much sebum is considered oily. The excess oil can lead to a shiny and greasy appearance, particularly in the T-zone (forehead, nose, and chin). Oily skin types may also have larger pores, which can easily become clogged with dirt and makeup, leading to blackheads, whiteheads, and acne breakouts. Despite the drawbacks, one advantage of oily skin is that it tends to show fewer signs of aging due to the higher moisture content.
Common Makeup Issues Faced by Oily Skin Types
Oily skin presents a unique set of challenges when it comes to makeup application. Some of the most common issues include:
Excessive Shine: Oily skin tends to produce more oil throughout the day, causing makeup to break down and slide off the skin, resulting in a shiny and greasy complexion.
Foundation Oxidation: Oily skin can trigger a chemical reaction with certain foundation formulas, causing them to darken or oxidize after application, leading to a mismatched and unnatural-looking skin tone.
Poor Makeup Adherence: Makeup products may struggle to adhere properly to oily skin, leading to patchy and uneven coverage, and an overall unstable makeup base.
Clogged Pores: The excess sebum production can mix with makeup products, clogging pores and increasing the likelihood of acne breakouts.
Short Wear Time: Oily skin can cause makeup to fade quickly, necessitating frequent touch-ups throughout the day.
Difficulty Achieving a Matte Finish: While matte foundations are often recommended for oily skin, some formulas may end up looking cakey and settle into fine lines and pores.
The Importance of Choosing the Right Foundation
Selecting the appropriate foundation for oily skin is crucial to achieving a long-lasting and flawless makeup look. The right foundation should address the specific challenges faced by oily skin and provide the following benefits:
Oil Control: An effective foundation for oily skin should help regulate sebum production and keep shine at bay throughout the day.
Longevity: A long-wearing formula will ensure that the foundation stays in place and maintains its coverage without breaking down, even on the oiliest of skin types.
Non-Comedogenic: Non-comedogenic foundations are less likely to clog pores and contribute to acne breakouts, making them ideal for oily and acne-prone skin.
Transfer-Resistant: A transfer-resistant foundation will prevent makeup from smudging onto clothes or rubbing off on surfaces, keeping the skin looking fresh and clean.
Lightweight Texture: Opting for a lightweight foundation will prevent a heavy, cakey feeling and promote better adherence to the skin.
Matte Finish: A foundation that has a matte or semi-matte finish can help absorb excess oil and create a smooth, shine-free complexion.
By understanding the unique characteristics of oily skin and the makeup challenges it presents, you can make an informed decision when choosing a foundation that suits what you are looking for and helps you achieve a beautiful, long-lasting makeup look throughout the day.
With the right foundation and proper application techniques, you can overcome the challenges of oily skin and enjoy a flawless and radiant finish.
Haus Labs Brand Overview
Before I get into my experience with the Haus Labs Foundation, I'd like to give a quick brand overview and their approach to makeup.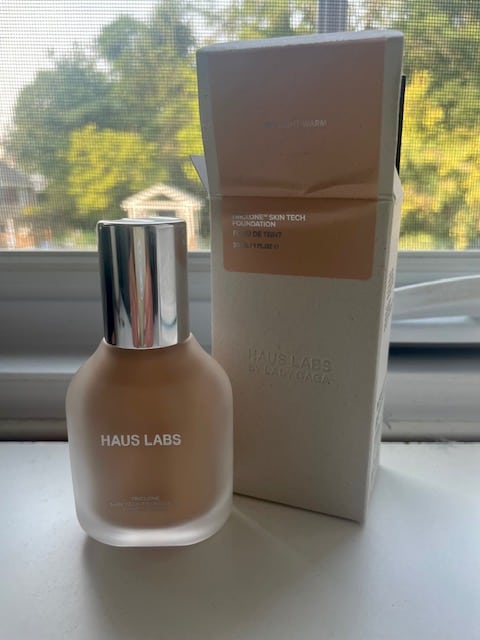 Haus Labs was created by Lady Gaga, I'm sure you, little monsters heard of her. She and her team are a collective of creatives, scientists, and innovators who give you beauty tools for clean artistry.
They believe in art, science, and kindness. They combine these three attributes to create clean, innovative, kind, high-performing products.
By making a purchase, you are supporting the Born This Way Foundation, which is dedicated to the mental well-being of young individuals and collaborating with them to create a more compassionate and courageous society.
Haus Labs is focused on "clean" beauty and is very transparent with the ingredients used in the products.
The pride themselves in using top-notch, safe synthetic and natural ingredients in our products. We understand that not all natural ingredients are beneficial, and not all synthetic ingredients are harmful. All products are sourced globally, utilizing cutting-edge innovation, expertise, and technology.
At Haus Labs, they firmly believe in the importance of kindness. This means being kind to ourselves, to others, and to our planet. That's why they are committed to using environmentally friendly materials such as glass, aluminum, cellulose, and post-consumer recycled materials whenever possible. They also use FSC-certified paper sourced from sustainably harvested forests to reduce our climate impact. Their ultimate goal is to become 100% carbon neutral by 2027.
The goal at Haus Labs is to utilize eco-friendly packaging materials such as glass, aluminum, cellulose, and PCR resin to minimize their carbon footprint and promote sustainability. Additionally, they ensure that all of our secondary cartons are recyclable and compostable, as they are crafted from FSC certified paper derived from responsibly managed forests.
"My vision for Haus Labs centers around the future of clean makeup, supercharged products with innovative formulations and novel ingredients."

Lady Gaga
Claims and Promises of Haus Labs Foundation
This foundation throws out some BOLD claims.
96% said skin looks healthier
96% said skin tone looks more even
95% said on skin it feels weightless
95% said on skin it blends seamlessly
94% said skin looks smoother
*Based on a 3rd party study of 185 panelists after application
Range of Shades Available
Haus Labs does not disappoint in this area. They offer 51 shades in this foundation—all the way from deep to fair.
My shade is 130 Light Warm. I'm not going to lie, I was a bit confused by the way the shades were named.
I am more cool-toned, so I didn't think it was right when I saw I was matched with light warm.
I ordered from Sephora and looked at every example photo they gave. After a few days of deliberation, I finally decided to go with the shade 130 Light Warm.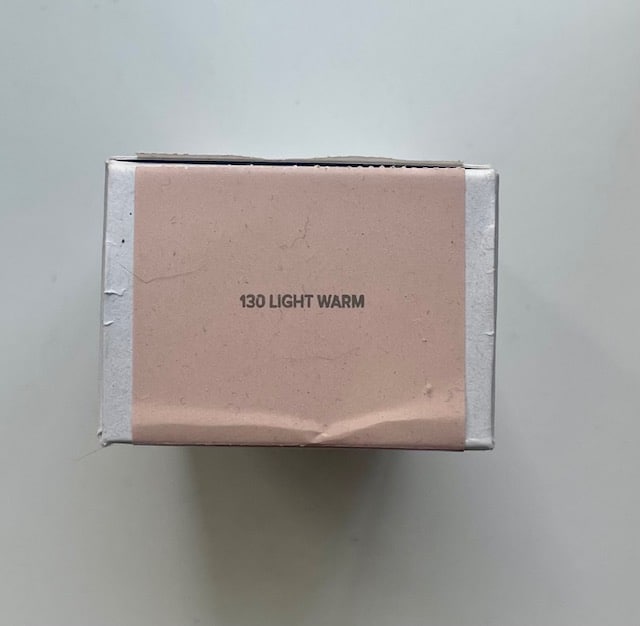 Lo and behold, the shade is the perfect match for me.
I'm still a bit confused by the shading, but I'm happy I went with it.
I recommend visiting a Sephora store to try out the foundation if possible. This will allow you to see and choose the best shade for your skin.
Key Ingredients and Their Benefits
HausTech Powered™ Innovation

Patent-Pending Fermented Arnica

860% more potent than conventional arnica

– Helps visibly reduce redness and irritation
– Helps even skin tone
– Protects skin from environmental stress

BioFerment 7 Complex

A patent-pending, bio-engineered, antioxidant rich complex that promotes anti-inflammation, anti-aging and protection from oxidative and environmental stress.

– Fermented Arnica contains soothing and healing properties
– Fermented Shiunko boosts circulation and brightens skin
– Fermented Green Tea supports skin elasticity
– Fermented Licorice Root contains skin healing properties
– Marine Algae helps even skin tone
– Tomato Leaf Extract combats oxidative stress and inflammation
– Squalane soothes and conditions skin

IntelliZen 7 Complex

A proprietary blend of medicinal herbs that work synergistically to promote healing and calming.

– Perilla Leaf calms and soothes sensitive skin
– Chamomile Flower calms inflammation and blemishes
– Licorice Root highly efficient free radical scavenger
– Dandelion protects against UV damage and detoxifies skin
– Panax Ginseng boosts microcirculation and overall skin nutrition
– Tiger Grass promotes collagen synthesis
– Althaea Rosea Flower contains moisturizing and anti-acne properties

Haus Labs
My Experience – Haus Labs Foundation REVIEW
The time has come to share my honest thoughts on the Haus Labs foundation and how it performs on oily aging skin. Let's dive in!
My Shade 130 Light Warm
Price $45
Buy from the Haus Labs website or Sephora
Initial Impressions and Packaging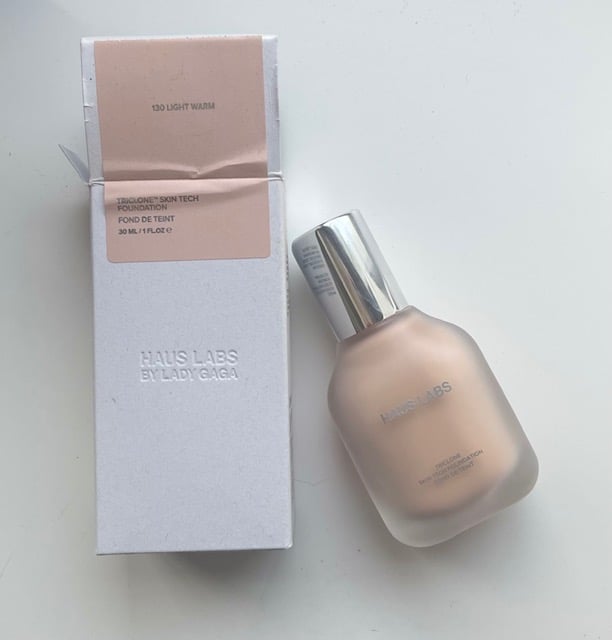 My first thought when I saw this foundation was dang, it looks high-end. And it really does!
The box it comes in is so sleek and minimalistic, which I am crazy about. I never knew a simple white box could look so chic!
The bottle the foundation comes in is flat-out gorgeous. It's a frosted glass bottle with a silver cap. Again so simple and chic.
When you hold the bottle in your hand, it has some weight, making me feel like it's super luxiorus and high-end.
Haus Labs nailed it with the packing on this foundation.
Overall, my first impression of seeing it was very high.
Application Process and Technique
Everyone has their own application process and technique they prefer. I tend to use a foundation brush when I'm looking for a bit more coverage. But most of the time apply my foundation with this makeup sponge.
For this Haus Labs foundation review, I tested both ways.
My process is that I use one pump of the foundation and dot it all over my face. ( I tend to use the tiniest do on the forehead because of the wrinkles.)
Then I will use either the sponge or the brush to blend it out.
Both the brush and the sponge bend out the foundation so easily. The product sunk into my skin and didn't look heavy or makeup-like. It looked like my skin but better.
Coverage and Finish on Oily Skin
I go in with one pump of foundation, which gives me light coverage. I use a pump and a half on days I want more of a flawless appearance.
The coverage on the Haus Labs Triclone Skin Tech foundation is medium. And I will agree with that. But I also am able to get light coverage from it.
A little goes a long way with this foundation.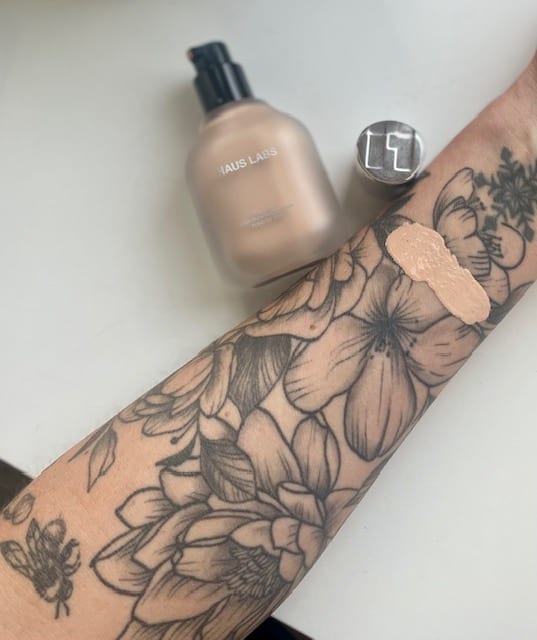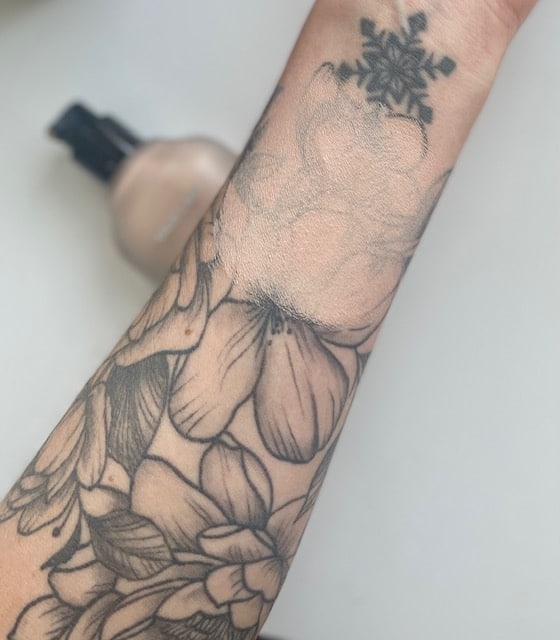 I have tried and tested it a few times, with the coverage varying each time. And I tend to prefer lighter coverage.
I lean towards light coverage because I have lines and wrinkles; all foundation settles in them. So when I pack on the foundation, it doesn't do me any favors. You know what I mean?
However, with the Haus Labs foundation, I didn't see as much settling into those lines. Yes, it settled, but not as bad as other foundations I've tried before.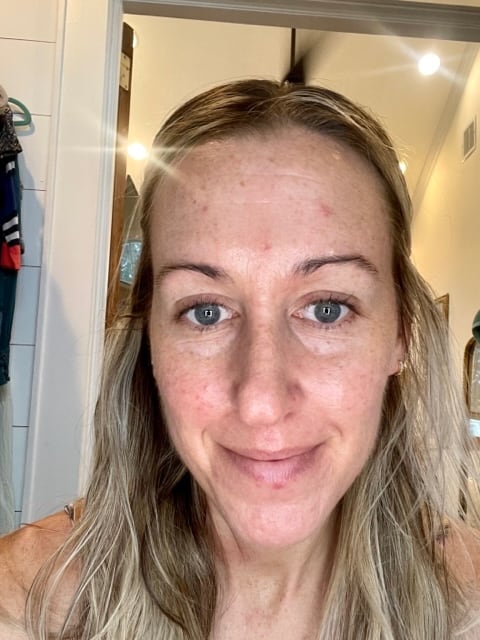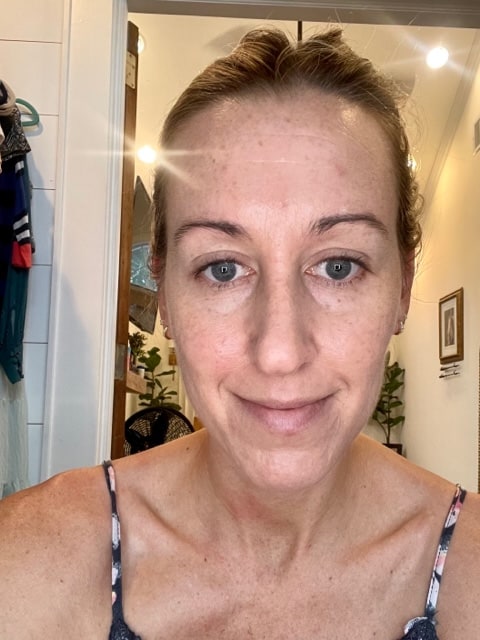 As for the finish on my oily skin, you can see in the picture it gives my complexion a more uniform and evened-out look. And it slightly cuts down the shine. It's a very natural skin-like finish.
Here, I applied the foundation using a makeup sponge.
Longevity and Wear Test Results
When it comes to longevity and wear time, the Haus Labs Triclone Skin Tech Foundation does not disappoint on my oily aging skin.
Most days, I will put my makeup on around 7 am and wear it all day until around 7 pm. So I have put this stuff to the test.
There are times I am too lazy to remove my makeup before my workout after work (I know not good). But the Haus Labs Foundation can handle my sweaty workouts. That's saying something.
Overall, I find that it keeps my oils at bay really well.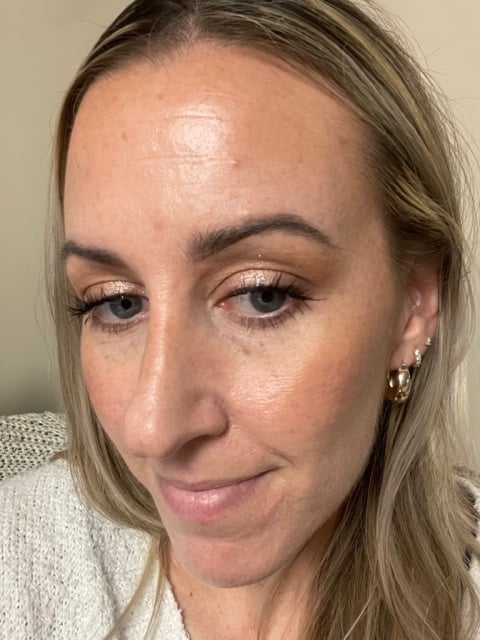 Usually, around 1:30 pm, with some other foundations, I am super oily and need to touch up with powder.
As you can see in the picture, my skin has a shine, but I like to say it's more of a glow.
Pros and Cons of Haus Labs Foundation for Oily Skin
The advantages I see from the Haus Labs Foundation are as follows:
gives my skin a beautiful natural finish
it feels lightweight and not too heavy on my oil, aging skin
its wear-time is phenomenal
it keeps my oils at bay
Great buildable coverage that leaves my skin smooth and moisturized
Clean ingredients that are good for your skin
Amazing shade range
The drawbacks I see from the Haus Labs Foundation are as follows:
If you apply too much, it can get a bit makeup-y
The price is on the higher end.
excellent shade range but a bit confusing
For my oily skin, It doesn't work well with certain sunscreens or primers
Quite honestly, I struggled to find drawbacks to this foundation. I have super oily skin. I have fine lines and some wrinkles, I'm 40, these are the facts. But I feel like the Haus Labs Foundation holds up so well against all these factors.
Tips and Tricks for Maximizing Has Labs Foundation's Performance on Oily Skin
We all want to get the most out of our products. If there is a way to make them work even better, sign me up!
That being said, I like to use a few tips and trips with the Haus Labs Foundation to make it look the best and last even longer.
Prepping the Skin: Skincare Regimen
This can make or break a foundation.
Your skincare regimen before applying makeup is one of the most critical steps to having your foundation look its best.
I keep my before-makeup skincare routine very simple.
I go in with my OneSkin moisturizer and eye cream. After I let that sink in, I use this vitamin C serum. Then I finish off with my face SPF.
READ MORE: THE BEST SUNSCREENS FOR AGING SKIN
There is a fine line between overdoing it with too many products and not using enough to ensure your skin is appropriately moisturized.
I need to mention that I tried this with the Elta MD sunscreen, which is one of my holy grails, but it did not mesh well with the Triclone Skin Tech foundation. I found that around 4is in the afternoon, my face was pretty greasy, and it looked as though the foundation was breaking apart a bit.
Everyone will have a different routine and products that work, but I find this works really well for my oily, aging skin when using the Haus Labs Triclone Skin Tech foundation.
Primer Selection for Oil Control
I find using a primer can be beneficial. However, it all depends on the type of primer.
I like a bit of oil control for me and my oily skin.
I don't usually wear primer every day, but I find it helpful when I want my foundation to look its best.
A few of the primers that I found to work well with the Haus Lab Foundation are:
I also will use my Coola Sheer Matte SPF as a primer. This eliminates an extra layer of product and saves a little bit of time.
Application Techniques for a Flawless Finish
How you apply your products can make a difference in the outcome and how they look.
When it comes to the Haus Labs Foundation, I learned a few application techniques and tricks that make it look amazing.
First and foremost, a little goes a long way. One pump of this foundation will give you light to medium coverage.
Start off with a small amount because you can always add more to the areas of your face that you want more coverage.
Use a makeup sponge if you want to sheer out that one pump even further. The sponges tend to soak up more of the product resulting in lighter coverage.
Use a densely packed foundation brush if you want more coverage. Again stick to the one pump and go from there.
To prevent any brush strokes, I will use a makeup sponge afterward. This will also pick up any extra foundation.
Setting and Touch-Up Strategies
If you have oily skin, it is a fact that a setting powder is necessary almost 95% of the time.
Of course, not all powders are created equal, and I have a couple I like to use with the Haus Labs Foundation to set it to last all day.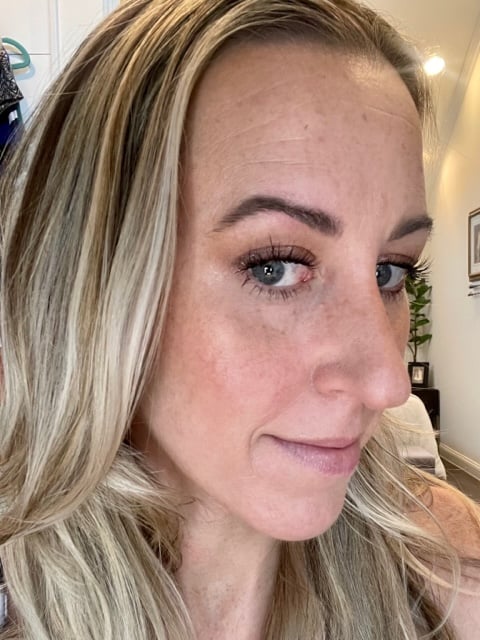 The Laura Mercie Translucent Loose Setting Powder. This is an oldie but a goodie. And it's my go-to, tried, and true setting powder.
I love this powder because it cuts the shine and locks my foundation into place.
I was relieved to find that it pairs beautifully with the Haus Labs Foundation.
The next powder that works well with it is the LYS pressed setting powder. It also sets and cuts the shine, but I find I get a little oiler earlier in the day opposed to the Laura Mercie.
I usually don't do touch-ups during the day unless I have an important meeting or I'm meeting up with a friend for drinks or dinner.
When I do a touch-up, I will go for an oil blotting sheet first. Then I'll apply some of the setting powder I used that day.
With the Haus Labs Foundation, I find that I don't need to touch up. I feel comfortable with how my skin looks. Yes, there is a bit of a shine, but it's nothing too crazy.
Recap – Haus Labs Foundation Review and Findings
I gave you all my thoughts and feelings regarding the Haus Labs Triclone Skin Tech Foundation. And it was a lot of information. So here are the key points about this foundation that I find most helpful if you are deciding on whether or not this foundation will work for oily aging skin.
Priced at $40
can be purchased at Sephora or Haus Labs website
Made with clean ingredients with skincare benefits
Very inclusive, impressive shade range
The shade names are a bit confusing. I recommend going in-store to swatch.
Medium buildable coverage, but I find I can get light coverage too.
A little goes a long way. You need a small amount of foundation to cover your face.
It can be applied with a brush or a makeup sponge.
gives my skin a beautiful natural finish
it feels lightweight and not too heavy on my oily, aging skin
Its wear-time is phenomenal, especially for oil skin.
keeps my oils at bay
Your skincare routine before you apply make makes a difference.
For oil skin, I recommend setting it with a powder.
I don't find it to accentuate my fine lines or wrinkles.
Final Verdict: Is Haus Labs Foundation Suitable for Aging Oily Skin?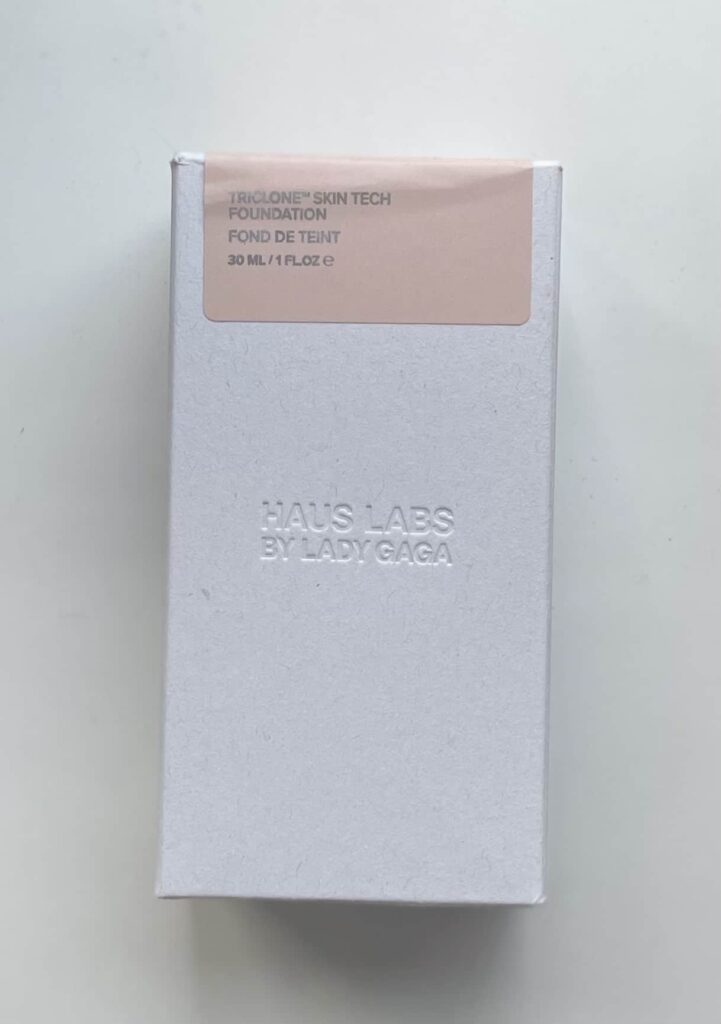 I have today, I try a lot of foundations, skin tints, bb creams, etc., and I don't think I have come across anything quite like the Haus Labs Triclone Skin Tech foundation.
As you know, I'm no spring chicken, I'm getting older, and I have lines on my face to prove it. I feel like it's becoming increasingly challenging to find foundations that suit my aging, oily skin.
I'm a bit shocked by how much I enjoy the Haus Labs Foundation and how beautiful it looks on my skin.
I honestly think that if you have oily skin that is more mature, you will benefit from this foundation.
The simple fact that my face isn't a greasy mess at the end of the day says it all. It's beautiful and long-lasting.
I think the price is reasonable compared to other foundations, and this one is far superior, in my opinion.
If you are a bit older, have oily skin, and have been curious about the Haus Labs Triclone Skin Tech Foundation, this is your sign to go check it out. I don't think you will be disappointed.
How to Purchase Has Labs Foundation
RECENT ARTICLES: