I may earn money or products from the companies mentioned in this post.Please click my Disclosure Policy to learn more
This Tower 28 Beauty Tinted Sunscreen Foundation Review is my 100% honest opinion. I tested this foundation for months on my oily, mature skin. This is a first-hand account of how the tinted sunscreen works on my particular skin type.
Hello, beauty enthusiasts and sun worshippers! Today, I'm thrilled to take you on a radiant journey into the world of makeup-meets-sunscreen magic with the Tower 28 Sunnydays Tinted SPF 30 Sunscreen Foundation.
As a seasoned makeup enthusiast with a passion for all things beauty, I understand the importance of a flawless complexion and sun protection, especially in our sun-drenched days.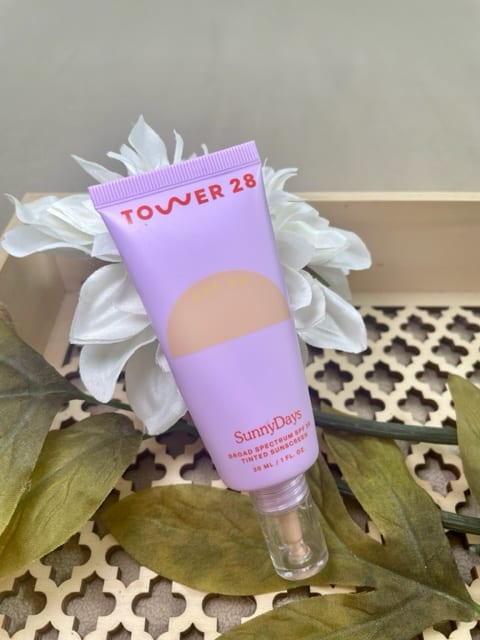 That's why I couldn't wait to get my hands on this innovative product, which promises to be a game-changer for those looking to simplify their beauty routine while keeping their skin safe from harmful UV rays.
In recent years, we've seen a surge in the demand for multitasking beauty products that can streamline our daily routines, and the Tower 28 Sunnydays Tinted SPF 30 Sunscreen Foundation seems to fit the bill perfectly.
A fusion of sun protection and foundation, this product aims to deliver a sun-kissed glow while shielding your skin from the sun's harmful effects. But does it live up to the hype? Is it suitable for all skin types? Does it offer a natural finish or a more glam look?
Join me as I put this product to the test, examining its texture, coverage, longevity, and, most importantly, its ability to protect your skin from the sun's rays.
Whether you're a makeup minimalist seeking a fresh, dewy look or a full-face glam enthusiast looking to simplify your routine without compromising on sun protection, this Tower 28 creation might just be the answer you've been waiting for.
So, buckle up and stay tuned for an in-depth review that will help you determine if the Tower 28 Sunnydays Tinted SPF 30 Sunscreen Foundation deserves a spot in your makeup bag this season.
Get ready to embrace sunny days with confidence and style!
ABOUT MY SKIN
As a makeup enthusiast in my forties, I totally understand the unique challenges that come with aging/ mature skin.
My skin type is predominantly oily, which means I'm no stranger to dealing with excess shine throughout the day. This can sometimes make it tricky to find makeup products that strike the right balance between controlling oiliness and providing adequate hydration.
Additionally, like many individuals in their forties, I've begun to notice some texture concerns, such as fine lines and uneven skin tone, which require makeup products that can smooth and blur imperfections without settling into creases.
Furthermore, my skin has a light complexion, which adds an additional consideration when choosing makeup shades and formulas. Products that are too heavy or don't blend seamlessly can make my skin appear cakey and accentuate fine lines, so I'm always on the lookout for makeup that provides a natural, youthful finish.
Given these specific skin characteristics and the challenges that come with them, I'll be evaluating the Tower 28 Tinted Sunscreen Foundation from the perspective of someone with oily, aging skin, texture concerns, and a light skin tone.
I'll be examining how well it manages shine, whether it minimizes the appearance of fine lines, and if it offers a shade that complements my complexion while providing the necessary sun protection.
Stay tuned for an honest and comprehensive review tailored to those with similar skin types and concerns!
WHERE TO BUY
PRICE
$32
WHAT IS IT? TINTED SUNSCREEN OR FOUNDATION
The Tower 28 SunnyDays™ Tinted SPF 30 Sunscreen Foundation is a versatile beauty product that combines the benefits of both sunscreen and foundation in one.
In the United States, where SPF claims are rigorously regulated by the FDA, this product undergoes third-party testing and registration to guarantee the accuracy of its SPF claim.
It offers broad spectrum SPF 30 protection, assuring your skin is protected and shielded from UV rays while providing a natural finish.
One of the standout features of SunnyDays™ is its ability to offer light to medium buildable coverage, making it an ideal choice for those looking to even out their skin tone and blur imperfections.
This quality is particularly beneficial for people with sensitive or problem-prone skin, as it allows for a flawless complexion without overburdening the skin with heavy makeup.
To maximize sun protection, it's recommended to apply a quarter-sized amount of SunnyDays™ to your face, ensuring full coverage.
However, for those who prefer to use less product, it can be layered with your regular sunscreen to ensure you're still receiving complete protection from the sun's rays.
Remember to reapply at least every two hours for optimal protection, and if you plan on swimming or sweating, consider using a water-resistant sunscreen in addition to SunnyDays™.
In essence, the Tower 28 SunnyDays™ Tinted SPF 30 Sunscreen Foundation offers a convenient 2-in-1 solution for individuals seeking a combination of sun protection and light, buildable coverage.
Its suitability for sensitive and problem-prone skin makes it an appealing choice for those with various skin concerns.
So, whether you're heading to the beach, running errands, or simply looking to simplify your daily beauty routine, SunnyDays™ has you covered.
TOWER 28 TINTED SUNSCREEN CALLOUTS AND CLAIMS
The Tower 28 SunnyDays™ Tinted SPF 30 Sunscreen Foundation boasts several compelling callouts and claims that make it a standout product in the world of beauty:
Evens Redness and Soothes UV-Stressed Skin: This tinted sunscreen goes beyond traditional coverage by effectively evening out redness in the skin. It also acts as a soothing balm for UV-stressed skin, making it an excellent choice for those sunny days when your skin needs some extra care. What's remarkable is that it achieves all this while maintaining a natural finish, allowing your unique features like freckles, moles, and your genuine skin texture to shine through.
Wide Shade Range Inspired by SunnyDay Hangouts in Los Angeles: SunnyDays™ takes a creative approach to shade names by naming them after popular hangout spots in sunny Los Angeles. With 17 flexible shades to choose from, there's an option for everyone, regardless of their skin tone, making it an inclusive and versatile product.
Earth Sensitive Pledge: Tower 28 is committed to sustainability, and this commitment extends to SunnyDays™ packaging. The product comes in packaging made from 60% PCR (post-consumer recycled plastic), contributing to a more eco-friendly beauty industry and reducing plastic waste.
Vegan, Gluten-Free, and Cruelty-Free: SunnyDays™ is in line with the values of conscious consumers. It's proudly vegan, meaning it doesn't contain any animal-derived ingredients, and it's gluten-free, catering to individuals with gluten sensitivities. Additionally, it holds the cruelty-free designation, assuring consumers that it hasn't been tested on animals.
In essence, the Tower 28 SunnyDays™ Tinted SPF 30 Sunscreen Foundation not only offers a practical solution for sun protection and coverage but also aligns with ethical and sustainability values.
Its ability to enhance your skin's natural beauty while providing protection and its diverse shade range make it a compelling addition to your beauty routine.
Plus, its commitment to environmental responsibility and animal welfare makes it a product you can feel good about using.
TOWER 28 TINTED SUNSCREEN FOUNDATION INGREDIENTS
The Tower 28 SunnyDays™ Tinted SPF 30 Sunscreen Foundation is more than solely a makeup product. It's a skincare powerhouse thanks to its thoughtful inclusion of skin-loving ingredients. Here are some of the critical components that make this foundation stand out:
Aloe Vera: Aloe vera is widely recognized for its calming and soothing effects.. It helps calm and hydrate the skin. Making it an excellent addition to a product to brace your skin from the sun's rays. Aloe vera can provide relief to UV-stressed skin, helping to prevent redness and irritation.
Prickly Pear Extract: Prickly pear extract is a true gem in skincare. It not only aids in repairing and softening the skin but also provides protection from blue light pollution. In today's digital age, where screens are a constant presence in our lives, this added benefit is particularly valuable for maintaining skin health.
White Sage Extract: White sage extract is known for its anti-inflammatory properties. It helps soothe the skin and can neutralize free radicals generated by sun exposure. This not only contributes to skin comfort but also supports skin health by combating the effects of environmental stressors.
Additionally, the foundation contains some highlighted ingredients that play a pivotal role in its performance:
Non-Nano Zinc Oxide: Non-nano zinc oxide is a highly effective mineral sunscreen ingredient. It forms a protecting wall on the skin's surface, shielding it from both UVA and UVB damage.
It's particularly suitable for sensitive skin, making it a gentle yet powerful choice for sun protection.
In summary, the Tower 28 SunnyDays™ Tinted SPF 30 Sunscreen Foundation goes above and beyond by infusing skincare benefits into its formula.
With ingredients like aloe vera, prickly pear extract, and white sage, it not only offers protection but also supports skin health.
Plus, the inclusion of non-nano zinc oxide ensures effective sun protection while being gentle on sensitive skin.
This combination of ingredients makes SunnyDays™ a multi-functional beauty product that cares for your skin as it beautifies.
TOWER 28 TINTED SUNSCREEN PACKAGING
The packaging of the Tower 28 SunnyDays™ Tinted SPF 30 Sunscreen Foundation is both practical and user-friendly. It comes in an easy-to-apply, super adorable purple squeezy tube, which has a fine point needle tip dispenser. This design is a notable departure from the traditional pump-style packaging commonly seen in foundations.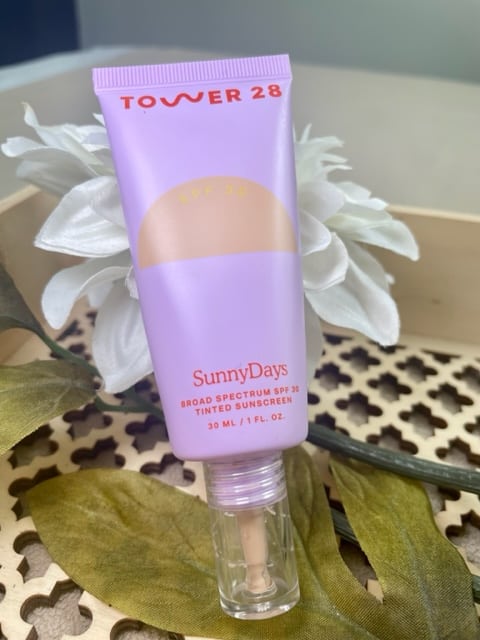 What sets this packaging apart is its precision and control. The fine point needle tip allows you to dispense the product with great accuracy. Ensuring that you get just the right amount you need for your application.
This level of control is especially valuable when dealing with a product that offers buildable coverage like SunnyDays™. You can easily tailor the amount of foundation you use to achieve your desired level of coverage, from a sheer, natural look to a more polished finish.
Furthermore, the squeezy tube design is practical and hygienic. It makes it effortless to squeeze out every last bit of product, minimizing waste. It's also travel-friendly, so you can take it with you on the go without worrying about spills or leaks.
In my experience, I found the squeezy tube with the fine point needle tip dispenser to be a convenient and effective packaging choice. It enhances the overall user experience. It makes it easier to apply the foundation precisely and ensuring that you get the most out of your product.
This thoughtful packaging design aligns perfectly with the product's commitment to simplicity and functionality. It's a standout choice for those who value ease of use and versatility in their beauty routine.
TOWER 28 TINTED SUNSCREEN FOUNDATION SHADE RANGE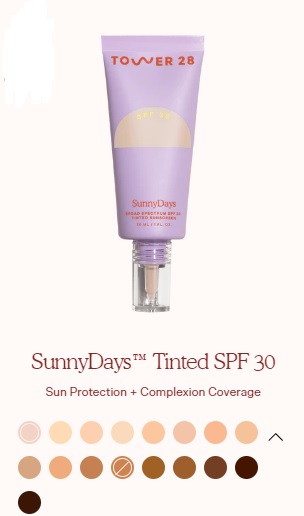 The Tower 28 SunnyDays Tinted Sunscreen comes in 17 shades named after popular hangouts in Los Angeles. Such a fun detail about this foundation.
Tower 28 says:
When we made the formula, we started with the deepest shade first, to ensure that the formula works across a wide range of skin tones. The shades were developed with the help of Kirin Bhatty, a BIPOC celebrity MUA with clients like Tessa Thompson and Awkafina.

Tower 28

Tower 28
I purchased my shade in-store, so I could see how they appeared in person. I went with 20 Mulholland, which says it is light with golden neutral undertones.
This is more of a summer shade for me, so this is a bit dark on me at the moment, but overall, I can make the color work.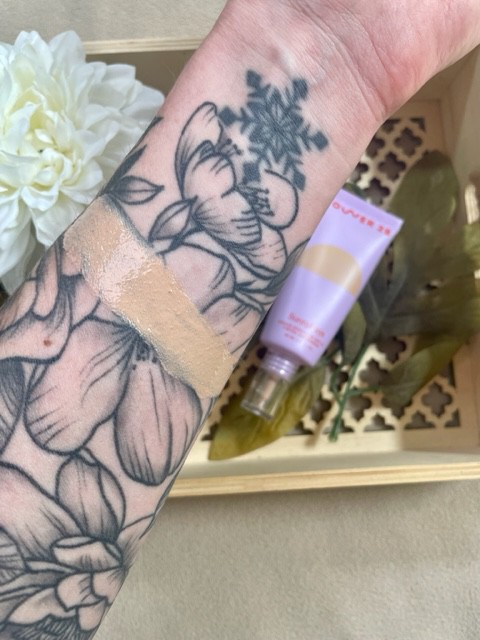 TOWER 28 TINTED SUNSCREEN SHADE COMPARISON SWATCHES
Foundation comparison swatches can be extremely helpful when you are trying to identify the right shade for you.
Of course, it's always best to swatch the shades in-store, but that is not always an option. So, with that said, I picked a few popular foundations from my collection and swatched them so you can see them compared to The Tower Tinted Sunscreen.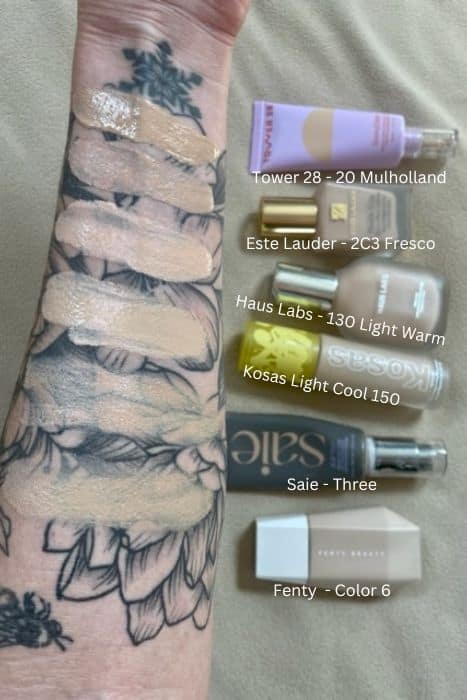 Here is another picture of the Tower 28 Foundation comparison swatches in different lighting.
Top to bottom:
Tower 28 – 20 Mulholland
Estee Lauder – 2C3 Fresco
Kosas – Light Cool 150
Saie – Three
Fenty – Color 6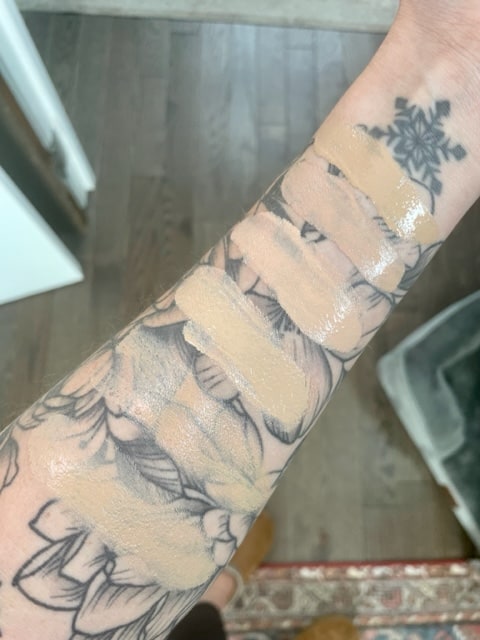 MY TOWER 28 TINTED SUNSCREEN FOUNDATION REVIEW
OK, let me just dive right into this review because I have a few thoughts.
As a reminder, I am 40, so you can consider my skin to be aging. or mature. I also have VERY oily skin, almost offensively oily, but I deal with it.
HOW I APPLY THE TOWER 28 TINTED SUNSCREEN FOUNDATION
The way you apply a foundation can really determine the end result.
You can use your fingers for light coverage, a beauty sponge for a pinch more coverage, or a foundation brush for medium coverage.
I have tested all three ways, and I prefer using a foundation brush. I like how it looks using all three methods, but I prefer a brush.
FINISH
The Tower 28 Foundation is described as having a natural finish.
I found with this foundation on my oily, mature skin, it looks dewy. When I first apply it is dewy, but it slightly dries down to the natural skin-like finish they say. However, with how oily my skin is, that natural finish is gone within an hour.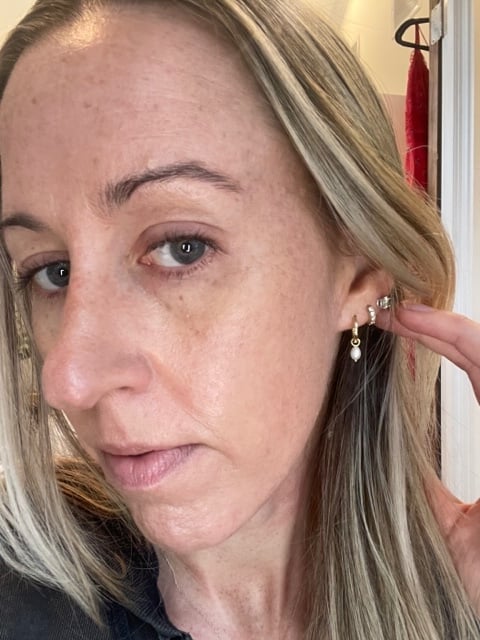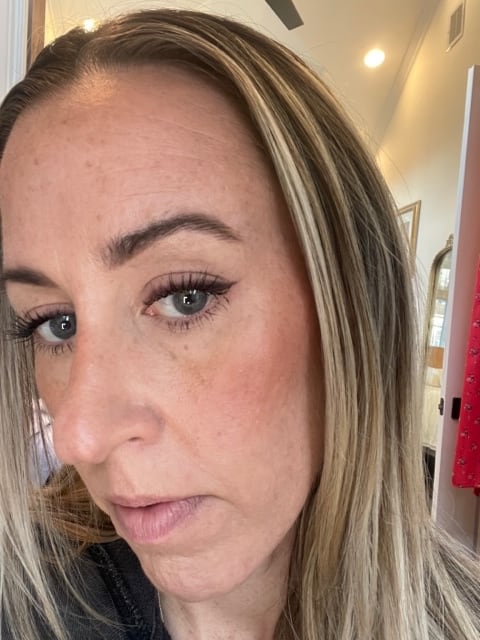 COVERAGE
When I first applied the Tower 28 SunnyDays Tinted Sunscreen, I was taken aback by the coverage. I was expecting it to be a light. somewhat buildable coverage. But it was more of a medium coverage. That's very impressive for a tinted sunscreen.
I am a fan of a bit of a lighter coverage for my everyday foundation. This is because my skin is aging not mature just yet. So, most higher coverage tints and foundations will settle into any line or wrinkle on my face.
I actually really like the coverage the Tower 28 SunnyDays Foundation gives. I apply a light layer with a foundation brush, and it covers my redness and discoloration perfectly. Sometimes, it won't cover active or angry imperfections, but I'm totally fine with that. That's more of a job for the Natasha Denona Hy Glam Concealer.
WEAR TIME
The amount of wear you can get from a foundation is a pretty big concern. We work long days, and we want our makeup products to last through those long days with as minimal touch-ups as possible.
That being said, my oily skinned- peeps are in a bit of a different boat. We have come to terms with the fact that most foundations and skin tints don't last as long on our skin type. It is a part of the oily skin life.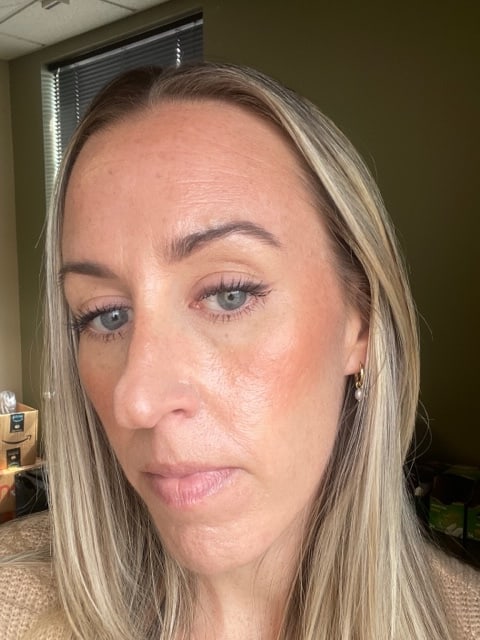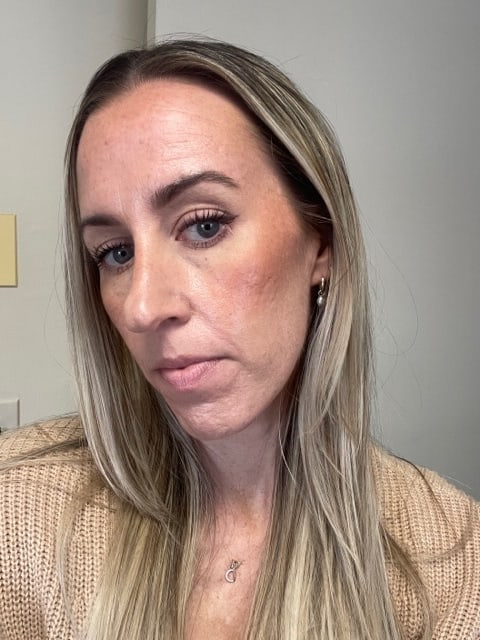 So, with a natural finish like the Tower 28 Tinted sunscreen, the wear time is not as long. In my experience, I have found that I get a solid 6 hours of wear time. (That's with on initial powder application). After 6 hours or so, it starts to break up in my T zone.
IS THE TOWER 28 TINTED SUNCREEN GOOD FOR MATURE SKIN?
Yes! I think the Tower 28 Tinted Sunscreen is a good option for mature skin.
If you have more mature skin, it's best to stay away from foundations that are super matte. A matte finish tends to look much drier on aging skin and honestly makes it look older. And that is not what we want!
The natural finish of the Tower 28 Tint has a hydrating feel to it, so it makes the skin feel nourished and not dry at all.
I have been testing this tinted Sunscreen for over 6 months now, and with my oily, mature skin, I like how it looks. And I think if you had mature, normal skin, you'd love this stuff.
MY FINAL THOUGHTS ON THE TOWER 28 SUNNYDAYS TINTED SUNSCREEN FOUNDATION
My experience using the Tower 28 Tinted Sunscreen has been wonderful. I have been testing and using it for over 6 months, and I have a lot of positive things to say about it.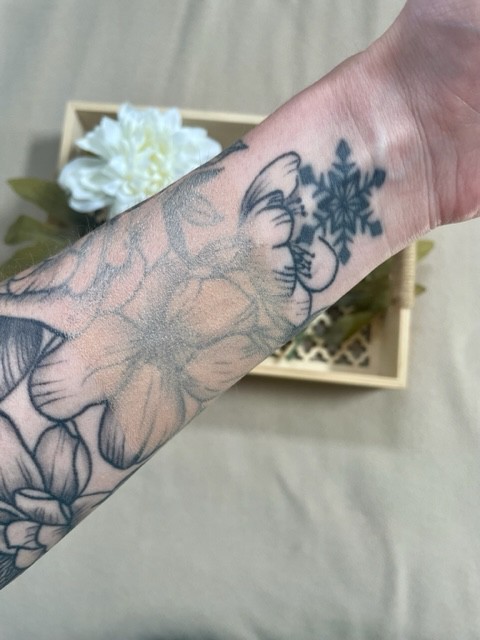 I love that it's a tinted sunscreen. Sunscreen is a crucial step in your skincare routine, and it should never be skipped. So, to have it in a tinted formula is fantastic. However, I don't use this as a sunscreen. I always go in with a separate sunscreen first.
You typically need at least a third of a teaspoon of sunscreen on your face. Since I prefer a lighter foundation coverage, I wouldn't want to use that much of the Tower 28.
I also love the natural finish, though it gets a bit dewy for my oily skin. It's something that doesn't bother me. It honestly feels nice and hydrating on the skin.
I think it's priced well at $32, and I find that to be fair for what you get.
Additionally, I love Tower 28 as a brand. I like that they are clean and cruelty-free and have a good approach in the makeup and skincare world. They are quickly becoming one of my favorite brands.
Overall, I really enjoy using the Tower 28 Tinted Sunscreen Foundation. I test a ton of foundation and skin tints, and this is one I always want to reach for.
YOU MAY ALSO LIKE: