I may earn money or products from the companies mentioned in this post.Please click my Disclosure Policy to learn more
Natasha Denona Hy-Glam Concealer is suitable for aging oily skin. It is packed with skin-loving ingredients and designed to provide superb coverage.
Hello, beauties!
Boy, oh boy, we are talking about a makeup product recently launched that is being hyped by everyone near and far, including every influencer I know.
Let me just dive right in because I have been testing this stuff for a while now, and I have thoughts. Rare, but it's known to happen from time to time.
Before that though, I'd like to share a little about me and my skin type.
I just turned 40 years old. I'm realizing the older I get, the more lines and wrinkles I discover. This is something I'm ok with and I'm embracing (as much as I can). That being said, it can sometimes be challenging to find concealer and foundations that won't sink into my fine lines and make my aging skin look heavy or aged.
On top of all that, I also have very oily skin with the occasional texture issue here and there.
Basically, the purpose of this honest review is to see if the Natasha Denona Hy-Glam Concealer lives up to its promises and works well for aging, oily skin.
Natasha Denona Hy-Glam Concealer – What it is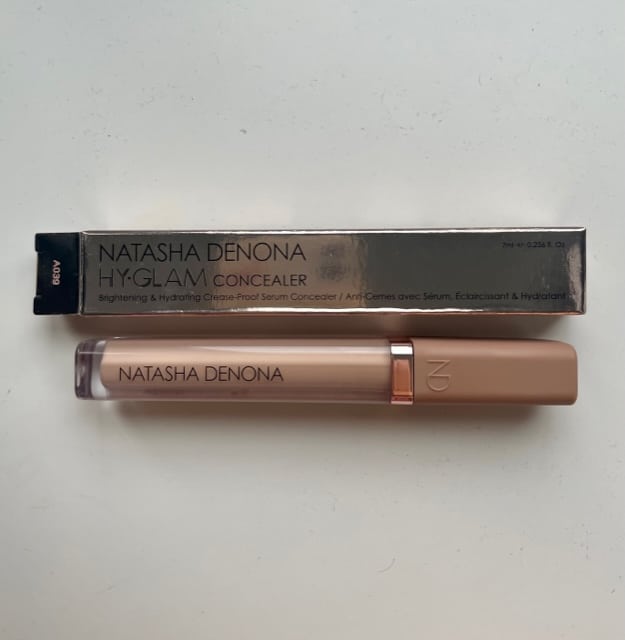 If you haven't yet heard of this concealer, let me fill you in.
A game-changing concealer that has a full-performance formula and advanced skincare properties.
It is said to be a crease-free concealer that lasts all day with a medium, buildable coverage and a matte, luminous finish. The Hy-Glam Correcting Concealer is formulated with biomimetic pigments and texture-perfecting microspheres to give you an airbrushed look that feels weightless and flexible. It leads you to achieve flawless results with a natural finish that will leave you looking and feeling your best.
This concealer has been a highly anticipated addition to the renowned Natasha Denona makeup line.
Marketed as a versatile concealer suitable for various skin types, it promises to provide a flawless and radiant complexion while addressing all types of needs, including aging, oily skin.
Packed with skin-loving ingredients and designed to provide excellent coverage, this concealer aims to be a game-changer for those seeking a reliable solution to conceal imperfections without compromising on skincare.
Natasha Denona Hy-Glam Concealer Claims
I am always so skeptical about makeup or skincare products that claim to do it all.
I think to myself, "There is no way it can possibly do it all. And honestly, most of the time, they don't live up to all the claims".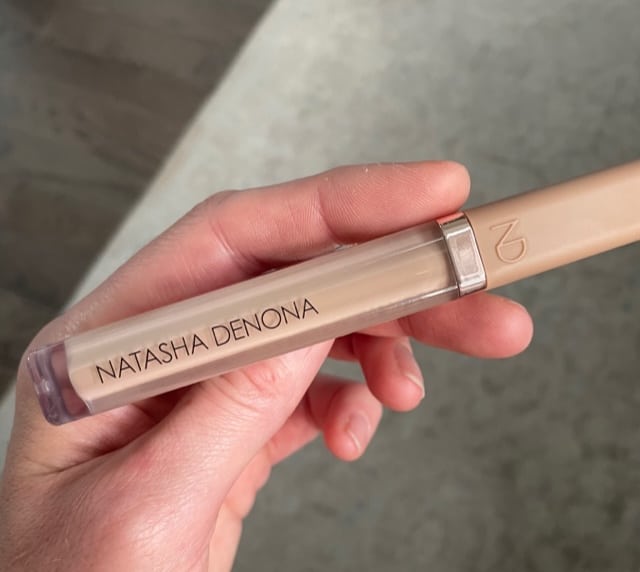 The Natasha Denona Hy-Glam Concealer is throwing out some massive claims. Let's see if it really will work for oily aging skin. Here's what they say:
Using a unique Butterflow™ Technology, HY-GLAM CONCEALER adjusts to any irregularity on the skin's surface, locking in coverage for all-day wear. Specifically tailored for all skin types.
Clinically Proven Results*
61% Report A Noticeable Dark Circles Reduction
51% Report A Significant Under-Eye Puffiness Reduction
Lightweight & Natural Finish
Anti-Aging
Increases Skin Hydration
Boosts Collagen Synthesis
Firmer & Luminous Skin
Cell Detoxification
Talc Free
Brightening
Hydrating
*Clinically proven ex-vivo test results on 30 volunteers over 28 days.
*Tested by 70 additional contributors over 28 days.
*Information has been taken from the Natasha Denona website.
Product Overview
As I mentioned before, the Natasha Denona Hy-Glam concealer has a ton of claims. It says it's a long-lasting, creaseless concealer with a natural, medium, buildable coverage and luminous matte finish. It was made to create flawless, airbrushed results with a weightless, natural look and supremely flexible feel.
Packaging
The concealer comes in a sleek and sophisticated tube packaging, making it convenient for on-the-go application. You get 7 ml / 0.25 Fl Oz of product. The concealer is dispensed through a doe-foot wand applicator with a hollow reservoir, allowing it to grip the ideal amount of product for precise and easy application, particularly in delicate areas like the under eyes and around the nose.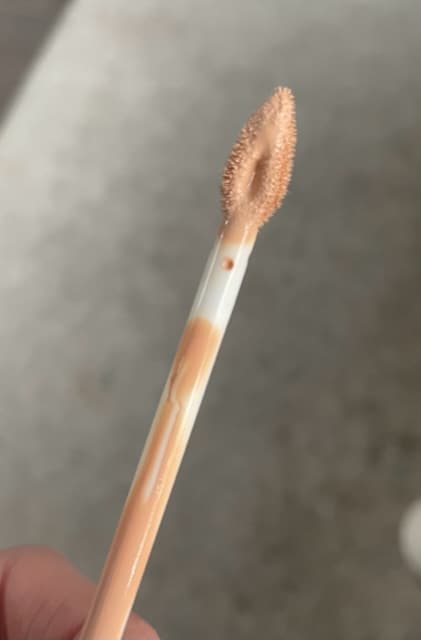 To get a little more full coverage, use the flat side of the wand tip to apply to large areas of the face.
I have to give it to Natasha Denona on the packaging. It looks and feels so elegant and high-end.
Shade Range
The Hy-Glam Concealer by Natasha Denona is renowned for its wide range of shades that cater to all skin tones. With an array of 50 different shades tailored to cater to a diverse range of skin tones, customers are likely to find a suitable match for their complexion. The brand takes pride in offering options for both warm and cool undertones, ensuring a seamless blend into the skin.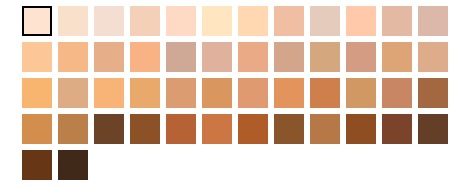 The HY-GLAM CONCEALER is designed to suit all skin tones while delivering a flawless shade. It utilizes Natasha's unique color-matching system, which is based on six overtones: fair, light, medium, tan, dark, and deep, as well as four undertones: neutral/cool, yellow/golden/olive, peach/warm, and rosy/pink.
This was one of the easy concealers to find a shade to work for my skin tone, and let me tell you, it is a perfect match. The shade I went with was RN3.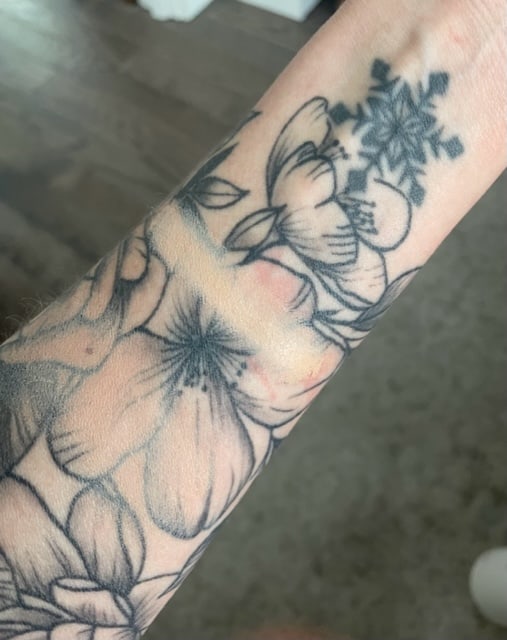 I went into a Sephora store so I could physically swatch the Hy-Glam concealer. Based on the photos on the website, I had a good idea that the shade would suit me. However, I wanted to ensure it was the perfect fit and didn't want to wait to place an order.
Price
As a premium makeup brand, Natasha Denona's products are generally on the higher end of the price spectrum. However, for those seeking top-notch quality and performance, the Hy-Glam Concealer, priced at $30, may be considered an investment worth making.
I am willing to pay for high-quality products that work. Yes, $30 for concealer is expensive, but if it performs phenomenally, then it's worth that high price point.
But I am here to test this concealer and let you know if it is worth spending $30 on.
Unique features and ingredients that may be beneficial for aging, oily skin.
There are a few key features that I love about the Hy-Glam concealer:
Cruelty-Free
Vegan
Paraben Free
Made in Italy
The Natasha Denona Hy-Glam Concealer is infused with skin-friendly ingredients. There are a couple that stand out and might be extra beneficial for oily, aging skin.
Capsicun Annuum Leaf
Provides a firming effect
Fades away dark circles
Reduces eye puffiness
Improves skin regeneration
Portulaca Grandiflora
Strong antioxidant activity
Fights inflammation
Anti-aging effect
Natasha Denona Hy-Glam Concealer Application and Texture
The formula is enriched with nourishing ingredients that are beneficial for the skin, promoting a more youthful and radiant appearance.
The texture of the Natasha Denona Hy-Glam Concealer is very creamy and super lightweight, which allows effortless blending and buildable coverage.
Upon first application, I was surprised by how creamy it was.
I used a concealer brush the first time I tried it, and it quickly and easily blended under my eyes, around my nose, and on some blemishes.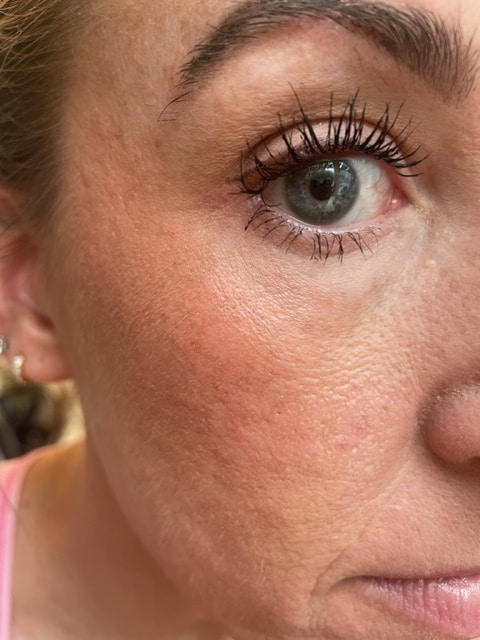 Being that I have been testing this concealer for a month or so I have applied it using my fingers, a brush, a wet makeup sponge, and a dry makeup sponge.
It performed amazingly with all applicators. However, my preferred way is using a damp makeup sponge. I find I get the perfect about of coverage and bendability that way.
Usually, when a concealer is creamy, it tends to immediately settle into my fine lines. With the Hy-Glam, that didn't happen right away. That right there set my hopes high.
I always set my concealer with a powder. This way, I lock it in to prevent as much creasing and settling as possible. I followed suit with the Hy-Glam concealer setting it with my Pat McGrath undereye setting powder.
READ MORE: THE BEST SETTING POWDERS FOR MATURE SKIN
That did the trick. It locks the concealer in place, and there is virtually no creasing. It's magic in a tub.
I will mention when I don't set the concealer, It does seem to settle a bit in my fine lines, but nothing like some of the other concealers I have tried.
Blending and Application Tips
To achieve the best results with the Natasha Denona Hy-Glam Concealer, it is essential to apply it on well-moisturized skin.
For under-eye circles, use a small amount of product and gently tap it with your ring finger or a damp makeup sponge for a seamless blend.
For blemishes and age spots, use a concealer brush or a precision sponge for targeted application and then blend the edges for a natural look.
Remember that a little goes a long way, so start with a light layer and build up if needed.
Natasha Denona Hy-Glam Concealer Coverage and Pigmentation
One of the essential aspects of a concealer, especially for aging, oily skin, is its coverage level and how well it camouflages common skin concerns like dark circles, blemishes, and age spots. In this section, we'll delve into the coverage provided by the Natasha Denona Hy-Glam Concealer and its effectiveness in concealing these imperfections.
Coverage Level
The Natasha Denona Hy-Glam Concealer boasts a buildable coverage, which means you can layer it to achieve your desired level of coverage. Upon initial application, the concealer provides a medium coverage, effectively evening out the skin tone and minimizing the appearance of mild discolorations.
If you have noticeable blemishes, you can apply multiple layers of the product to achieve complete coverage. This will help hide dark spots, acne scars, and other skin imperfections.
Concealing Dark Circles
Dark circles can be particularly challenging to conceal, especially for individuals with aging, oily skin, as the formula can sometimes accentuate fine lines and settle into creases. However, the Natasha Denona Hy-Glam Concealer seems to perform admirably in this aspect.
Its creamy texture allows for smooth application, and when blended well, it effectively covers under-eye darkness. The concealer's radiance-boosting properties also contribute to brightening the under-eye area, giving a more awake and youthful appearance.
Concealing Blemishes
Blemishes and redness are common concerns for those with oily skin, and the concealer's ability to cover these imperfections is crucial. The medium to full coverage of the Natasha Denona Hy-Glam Concealer proves to be effective in concealing blemishes, redness, and even active acne spots.
Its buildable nature ensures that you can layer the product without it looking cakey, providing a seamless and natural-looking finish.
Concealing Age Spots
Aging skin often comes with the appearance of age spots or sunspots, and a good concealer should be able to help minimize their visibility. The Natasha Denona Hy-Glam Concealer's full coverage proves to be beneficial in concealing age spots and hyperpigmentation. When applied to the affected areas and blended into the surrounding skin, the concealer helps even out the skin tone, creating a more uniform complexion.
The Natasha Denona Hy-Glam Concealer offers a versatile coverage level that adapts to various skin concerns. With its buildable formula, I find it effectively conceals dark circles, blemishes, and age spots, providing a smooth and radiant finish.
To achieve the desired effect, only a small amount of this concealer is necessary. A little truly goes a long way.
I found that if I applied too much it looked a bit heavy and definitely creased more. Once you find that perfect amount of product you need you are smooth sailing from there, quite literally.
Depending on your skin type and application technique, this concealer may perform differently for you, but overall, this concealer appears to be a pretty dang promising option for those like myself seeking a reliable solution for concealing imperfections on aging, oily skin.
Natasha Denona Hy-Glam Concealer Longevity and Wear Test
The longevity and wear test of a concealer are crucial factors for individuals with aging, oily skin. Throughout the day, the skin's natural oils can challenge the durability of makeup products, and finding a concealer that stays in place without caking, creasing, or fading is essential.
I have been using this concealer for about a month and noted the wear time of the Natasha Denona Hy-Glam Concealer to evaluate it's staying power and how well it performs on aging, oily skin.
Application and Initial Performance
As I mentioned earlier, upon initial application, the Natasha Denona Hy-Glam Concealer glides smoothly onto the skin, providing a flawless and luminous finish. It blends effortlessly, adhering well to the areas of concern, such as under the eyes, around the nose, and over blemishes and age spots. The concealer's lightweight texture ensures it does not feel heavy or suffocating on the skin, which is particularly crucial for those of us with oily skin prone to congestion.
First Few Hours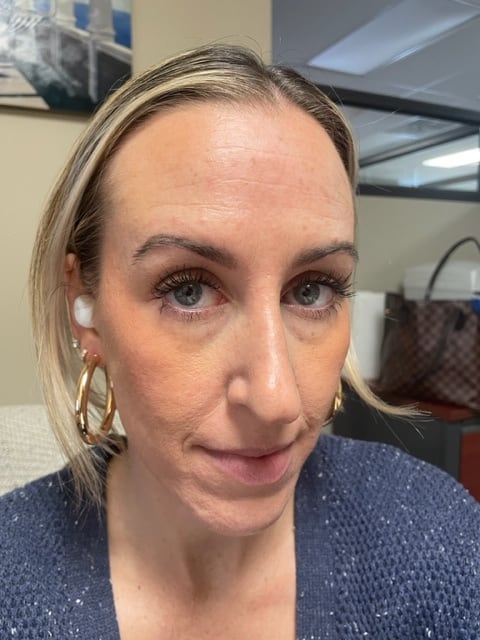 In the first few hours of wear, the concealer maintains its coverage and luminosity, even on areas prone to excess oil.
If you have oily skin, you know it's not uncommon for makeup to start breaking down or becoming patchy as the skin produces more oil throughout the day.
Regardless, I did not see that with the Natasha Denona Hy-Glam Concealer. I found it held well during this initial period, with minimal signs of fading or creasing.
Mid-Day Check:
As mid-day approaches, the true test of the concealer's longevity begins.
Oily skin types may find that some concealers tend to separate on the skin or settle into fine lines, especially in the T-zone.
However, the Natasha Denona Hy-Glam Concealer demonstrates notable resilience during my mid-day check. And surprise is the only word I can think of to describe my feelings.
I was pleasantly surprised by how flawless my concealer looked in the middle of the day. It maintained its coverage, and there were no signs of creasing.
End-of-Day Performance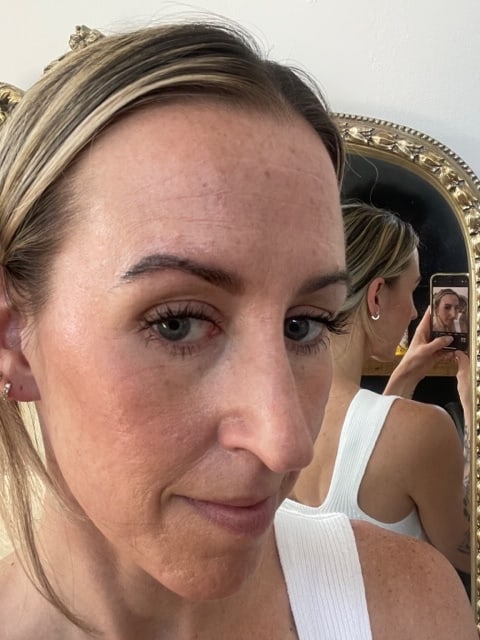 By the end of the day, the concealer's performance remains commendable.
Some slight settling and fading did occur, but it didn't compromise the overall coverage achieved earlier in the day.
The Hy-Glam concealer continued up until the end of the day to effectively conceal my dark circles, blemishes, and age spots without appearing cakey or emphasizing fine lines.
Oil Control
A crucial aspect of assessing a concealer's longevity on oily skin is its ability to control excess oil and shine. The Natasha Denona Hy-Glam Concealer shows promise in this regard, as it manages to keep oiliness at bay for a considerable amount of time. If you have extremely oily skin I suggest using a light dusting of setting powder which can further enhance the concealer's oil-controlling properties and extend its wear time.
I have extremely oily skin but just in my T zone. My under eyes tend to be on the normal side. Regardless of where I use this concealer, I always set it with a powder. It really is the best defense against my oils.
Wear Test Summary:
I found that the Natasha Denona Hy-Glam Concealer performs impressively during the day on my aging, oily skin. Its buildable coverage and luminous finish stay intact for an extended period. Providing effective concealment of everything from dark circles to blemishes and age spots. I found the concealer resists any major creasing, making it a promising option for us oily skin gals.
Application Tips for Prolonged Wear
To maximize the longevity of the Natasha Denona Hy-Glam Concealer on aging, oily skin, consider the following tips:
Prep the Skin: Start with a clean and moisturized face to create a smooth canvas for the concealer application.
Use a Primer: Apply an oil-controlling primer to help control excess sebum and create a smooth base for the concealer.
Set with Powder: After applying the concealer, set it with a translucent powder to lock it in place and reduce shine throughout the day.
Blotting Papers: Blotting papers are a must! They absorb excess oil during the day without disrupting the makeup.
Avoid Excessive Layering: While the concealer is buildable, avoid excessive layering to prevent a cakey appearance, especially in areas prone to creasing.
Performance on Aging Skin
As you know, I am 40. So I consider myself to have aging skin. That being said, Even though I do have wrinkles and fine lines, they are what I'd like to believe are minimal.
Aging causes our skin undergoes various changes, such as the loss of elasticity, fine lines, and the appearance of age spots. So finding a concealer that not only effectively conceals imperfections but also complements and enhances the texture of aging skin is essential.
Let me share how the Natasha Denona Hy-Glam Concealer performs on my aging skin. I'll address concerns such as settling into fine lines, texture enhancement, and its ability to create a smooth and youthful finish.
Settling into Fine Lines
A common challenge with aging skin and concealer application is the potential for the product to settle into fine lines and creases, accentuating rather than concealing them. Yet, the creamy and lightweight texture of the Natasha Denona Hy-Glam Concealer works in its favor.
While testing the concealer, I noticed that it didn't settle too much into my fine lines. It indicates that the product contains ingredients designed to prevent this issue. How? The science is beyond me, but It glides over the skin smoothly, minimizing the risk of emphasizing wrinkles or crow's feet if you have them.
Texture Enhancement:
With age comes texture irregularities, such as enlarged pores and rough patches. The Natasha Denona Hy-Glam Concealer provides a smooth and even finish, helping to enhance my skin's texture and not accentuate my pores.
Its buildable coverage allows for targeted application on areas of concern, such as uneven skin tone, without feeling heavy or clogging pores. The concealer made my skin look refined and youthful when I applied and blended it correctly.
Brightening and Uplifting:
Aging can cause the undereye area to lose its natural radiance and appear tired and dull. The Natasha Denona Hy-Glam Concealer addresses this concern, brightening the undereye area and imparting a lifted effect.
Its luminous finish reflects light, effectively diffusing shadows and reducing the appearance of tiredness. I had tested this on days when I lacked sleep, and the brightening effect enhanced the overall youthfulness of my complexion. That's why it is an excellent choice for mature skin.
Minimizing the Look of Fatigue:
Aging skin can sometimes appear fatigued and lackluster due to reduced collagen and elastin production or a general lack of sleep. I can see how The Natasha Denona Hy-Glam Concealer's radiant properties play a significant role in countering this effect.
By providing coverage without being heavy or cakey, the concealer helps minimize the look of fatigue, adding a barely-there glow to the skin and creating a more refreshed and energized appearance.
Skin-Friendly Ingredients
Another crucial aspect of the Natasha Denona Hy-Glam Concealer's performance on aging skin lies in its skin-friendly ingredients. The concealer contains antioxidants, moisturizing agents, and nourishing extracts that work to improve skin tone and texture and provide long-term benefits.
These ingredients may help combat the signs of aging, making the concealer a makeup product with added skincare benefits.
Overall, the Natasha Denona Hy-Glam Concealer exhibits excellent performance on my aging skin. I love the lightweight and creamy texture, along with its luminous finish. It conceals imperfections and enhances my skin's texture without heavily settling into fine lines.

The concealer's brightening and uplifting effects helped combat the appearance of fatigue, giving me a more youthful and revitalized complexion. Additionally, the inclusion of nourishing ingredients provides potential long-term benefits, making it a concealer that not only covers but also cares for aging skin.
Comparison with Other Concealers
I have tried my fair share of concealers. I'm ashamed to admit how many are in my collection at the moment. But my alarmingly large collection comes in handy when it comes to reviewing products.
There are a few concealers that I have found to work very well for my aging, oily skin. I want to share how they compare to the Hy-Glam Concealer.
Natasha Denona Hy-Glam vs. NYX Bare With Me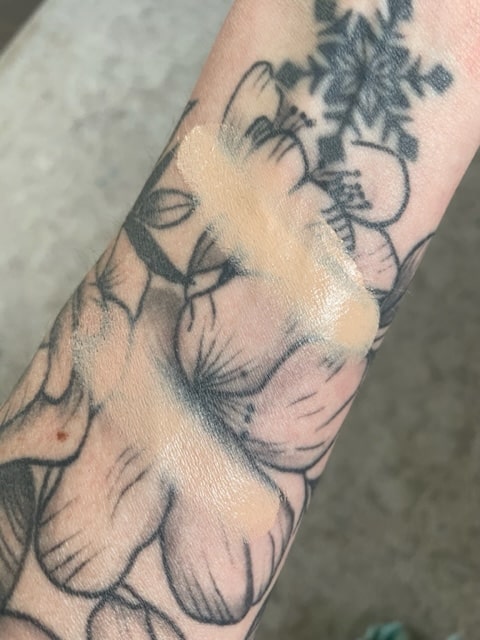 The Natasha Denona Hy-Glam and the NYX Bare with Me are both concealers that work so well for my aging oily skin.
Compared to the Natasha Denona Hy-Glam Concealer, the NYX Bare With Me Concealer is a bit different. Here's how:
NYX is a bit more serum-like
it has a natural hydrating finish
I find it to have lighter coverage
to as long-lasting
it's priced at $12
Overall, the NYX Bare With Me Concealer is a fantastic concealer that blends beautifully and has great coverage. It's not A dupe for the Hy-Glam, but at $14 is a fantastic drugstore option.
Natasha Denona Hy-Glam vs Catrice True Skin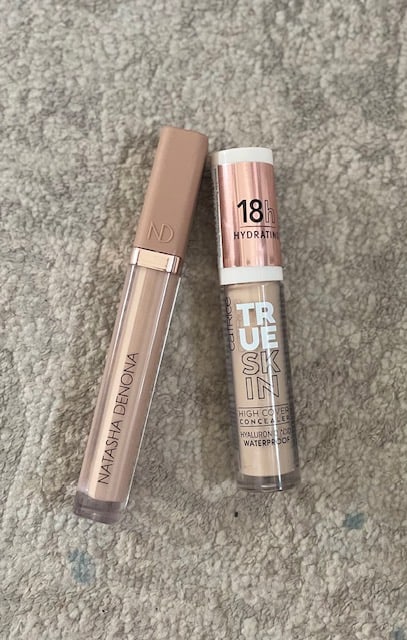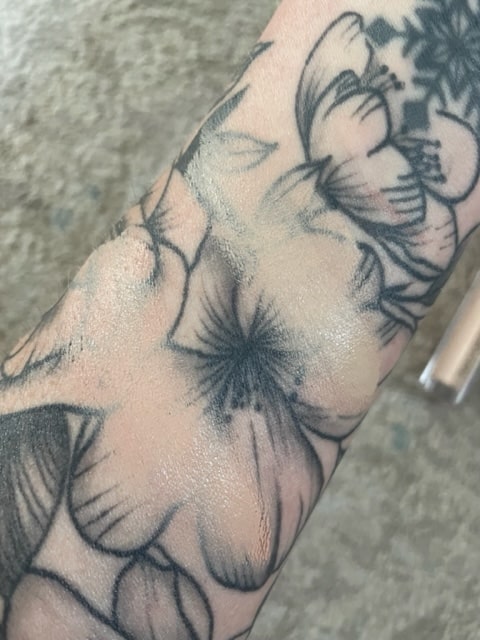 Compared to the Natasha Denona Hy-Glam Concealer, the Catrice Ture Skin is a bit different. Here's how:
Catrice true skin is full to medium coverage.
The shade range is minimal.
It has a natural finish.
not as long last as the Hy-Glam
Priced at $7
Basically, the Catrice True Skin Concealer is another great drugstore concealer option. It's similar to the Hy-Glam with coverage and pigmentation. It is also lightweight and blendable. I get a bit more creasing with the True Skin, but it's minimal. Overall the Ture Skin works well for my oily aging skin. And $7 is a great price.
Final Thoughts- Natasha Denona Hy-Glam Review- Is it Good for Oily Aging Skin?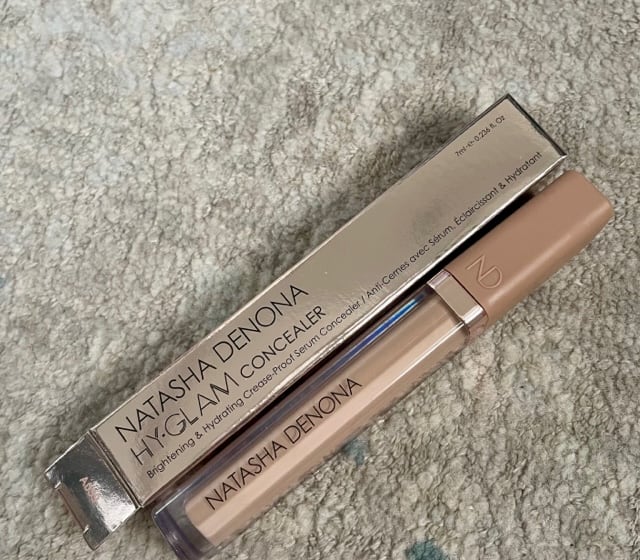 There is no other way to say this, I LOVE THIS CONCEALER!
Holy moly, let me tell you about the fabulousness that is the Natasha Denona Hy-Glam Concealer! It's like a magical potion that turned back the clock and gave my skin a big, oily "Bye, Felicia!" My face hasn't looked this good since I rocked blue eyeshadow in the '90s!
First of all, can we talk about the packaging? It's so sleek and chic. When I pulled it out, I swear I heard angels singing a high note! But enough about the outside. Let's get into the juicy stuff inside the tube.
Now, my oily skin thinks it's still 18, but my wrinkles remind me that I've been on this planet for a while. But fear not because the Hy-Glam Concealer swoops in like a superhero and saves the day! It's like wrinkle-erasing wizardry in a tiny wand.
When I first applied it, I couldn't believe my eyes. It glided on like a dream, and I swear it whispered, "I gotcha, girl!" The coverage is no joke – it concealed my dark circles so well that I looked like I just came back from a month-long vacation on a tropical island (when in reality, it was just a weekend Netflix binge).
And listen; usually, concealers and my oily skin play a game of "Let's Slide Off Your Face Before Noon," but not this one! The Hy-Glam stayed put like a loyal bestie, refusing to budge even in the face of my 4th cup of coffee. I'm convinced it has magical powers to keep shine at bay, and boy, does it deliver!
Oh, and did I mention the glow? The Hy-Glam gave me that radiant, youthful glow that says, "I woke up like this… flawless!" I swear, if I could, I'd bathe in this stuff every day just to keep that glow on point.
So there you have it, my fellow makeup mavens! If you're rocking oily, aging skin like moi, then the Natasha Denona Hy-Glam Concealer is your new BFF. It's like a little tube of magic that'll have you looking fabulous and ready to take on the world – or at least the dance floor. Get ready to say goodbye to imperfections and hello to the glamorous you! Now excuse me while I go order a lifetime supply of this concealer. You can thank me later! wink
RECENT ARTICLES: