I may earn money or products from the companies mentioned in this post.Please click my Disclosure Policy to learn more
OneSkin OS-01 is a skin care product developed by the company OneSkin Technologies. The company's research and product formulations may have evolved since my last knowledge update, so I encourage you to visit the company's official website or consult with a dermatologist for the most up-to-date information.
WHAT IS OneSkin?
OneSkin is not a skincare company; they are a skin longevity company.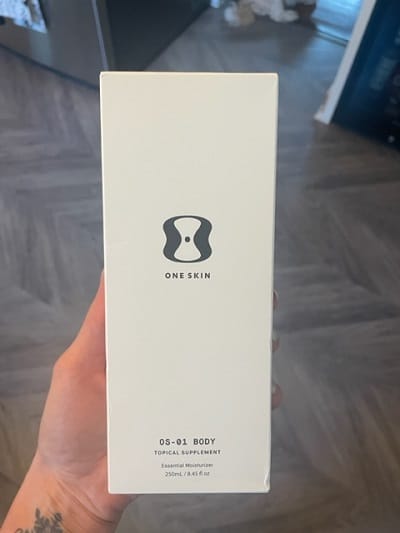 The first skin longevity treatment that extends skin health on the molecular level to address aging from within. Formulated for areas of your skin that are most exposed to environmental damage, including your face, hands, and neck.
Here are a few key points.
Developed by longevity scientists
Safe and clean
For all skin types
Vegan & Cruelty-Free
Fragrance-Free
Safe for sensitive skin (evaluated by SkinSAFE)
Manufactured in California
The OneSKin team consists of aging experts with PhD qualifications. After years of research in the lab, they have developed topical products specifically designed to prolong the time your skin remains healthy and youthful. It's worth noting that not all supplements come in the form of pills.
OneSkin's mission is to encourage healthy aging. They don't identify with the term "anti-aging."
Here's what they say
"Much of the anti-aging skin care industry has been built on empty promises with top anti-aging products lacking validated claims and exploiting age-related anxiety and fear.

At OneSkin, we recognize that the goal of the best anti-aging skin care product shouldn't be only to provide temporary relief or improve appearances, which often forces consumers to compromise on long-term skin health, but rather to treat the underlying source of skin aging, a consequence of which will be improved appearances.

We are developing best-in-class solutions to aging with a new mindset – one that's not anti-aging, but pro-aging in the healthiest and most beautiful way possible. We believe the best anti-aging treatment is one that is rooted in science, with data-backed claims. That's why our Topical Products go beyond placing a metaphorical band-aid on aging skin — it addresses the molecular changes associated with aging and is formulated to not only boost skin health, but overall health as well."

OneSkin
WHAT ARE THE BENEFITS OF USING OneSkin?
There are numerous benefits to using OneSkin.
It aims to address various signs of aging, such as wrinkles, fine lines, and skin sagging.
OS-01 FACE addresses the root causes of aging so that skin doesn't just look younger, it actually functions like younger skin.
INCREASE EPIDERMAL THICKNESS, which leads to fewer wrinkles and more protection against external stressors.
IMPROVE COLLAGEN PRODUCTION this Increases skin firmness and strength
Supports DNA damage repair, Improves overall cell function
Increase skin hydration. Reduces water loss and supports the production of hyaluronic acid
It Improves

skin barrier
Skin elasticity
Skin Evenness, Radiance, Pores, & Firmness
Reduce the Appearance of Fine Lines & Wrinkles
Improve Skin Smoothness & Overall Appearance
OneSkin KEY INGREDIENTS
Seven key ingredients that work with OS-01 to boost moisture, reinforce barrier function, and diminish skin stress
OS-01 Peptide
Pracaxi Oil
Andiroba Oil
Niacinamide
Oleic Pau Mulato extract
Allantoin
Hyaluronic Acid
PACKAGING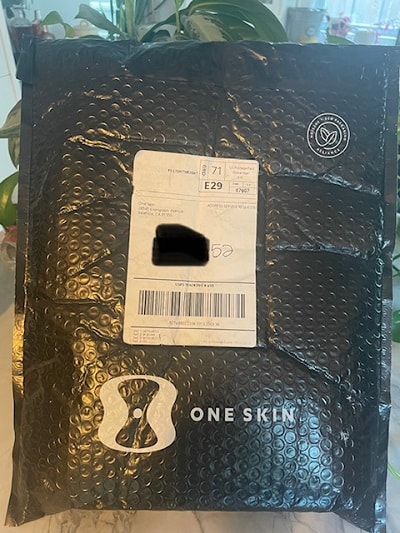 People tend to either care about a product's packaging or don't give a rat's behind about it.
I am one that cares, and let me tell you, OneSkin has aesthetically pleasing packaging.
I love the simplicity of the black-and-white packing. It's nothing crazy fancy, but it does look high-quality.
Aside from the look of the packaging, it's also conscious, meaning all the products are refillable.
Benefits of Refillable OneSkin Face Moisturizer:
Sustainable refillable packaging & shipping
Visibility into the amount of remaining product
Get single every last drop out by cutting the refill pouch!
My favorite part about the refillable packs is being able to cut them. No wasted product!
HOW TO USE OneSkin FOR THE BEST RESULTS?
They say that you should use OneSkin as a daily essential moisturizer after cleansing.
I read that they suggest applying it directly to clean skin before anything else. This is suggested because the peptide works and absorbs better and essentially will be more effective. Additionally, they say it is also ok to use a toner before applying it.
Another way to get the most out of OS-01 Face is to use the OS-01 Prep beforehand to cleanse.
MY OneSkin OS-01 BRAND REVIEW
OK, so I have been using OneSkin OS-01 face, body, and prep since September 14, 2022. I started the eye treatment on April 18, 2023. And boy, do I have some thoughts!
First things first, currently, at the time of this OneSkin review, I am 40 years old. I am also ashamed to admit that I was a sun goddess in my teens and early 20s, AKA I wanted to be tanner than tan.
At 28 or so, I FINALLY woke up and decided to get serious with my SPF and skin care habits.
Fast forward to September 2022. My 40th birthday was quickly approaching, and I was knee-deep in skin care and antiaging research, thinking I'd stumble across the secret to age reversal.
That's when I stumbled upon OneSkin. I was intrigued, to say the least. At this point, I was willing to try anything, and I said what the hell, let's give it a try.
WHERE CAN YOU ORDER?
I ordered OneSkin OS-01 directly from their website. I don't believe there is anywhere else you can purchase it at the time of this review.
Ordering was a breeze because their website is set up beautifully. It was easy to navigate and secure, so I had no worries about placing the order.
WHAT IS THE PRICE OF OneSkin OS-01?
They offer a few different products. The pricing is as follows:
OS-01 Face

$99 – Subscription
$120 One-Time Purchase

OS-01 Body

$89 – Subscription
$99 One-Time Purchase

OS-01 Eye

$98 – Subscription
$109 One-Time Purchase

OS-01 Prep

$39 – Subscription
$45 One-Time Purchase
I opted to go the subscription route to save a few extra bucks since it's obvious this stuff isn't cheap.
MY OneSkin OS-01 BRAND Test Results (Before and After Photos)
I have consistently been using the OneSkin OS-01 face, body, and prep for 10 months now, and I have seen a vast difference in my skin.
First and foremost, my wrinkles are less pronounced, especially on my forehead. They are still there, but they look smoother overall.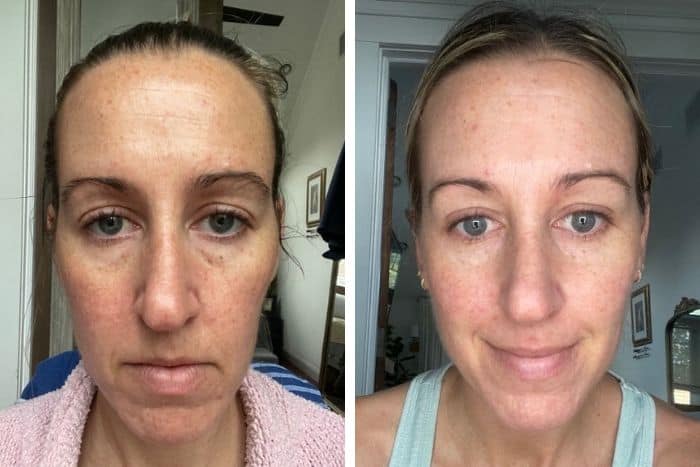 I can tell a difference in the firmness of my skin on both my face and body. I swear it feels a bit tighter,
The tone of my skin has also evened out. I noticed dark spots have lightened, and my skin looks radiant. Most of the redness I was having before using the OS-01 face is practically diminished. But I still have some redness resulting from having sensitive skin.
As you can see from the picture there is a slight difference, and I'm clearly much happy in my after picture.
OS-01 Prep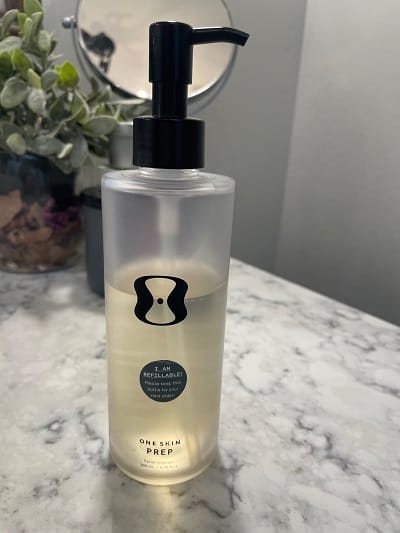 I really like this cleanser. My skin is on the sensitive side, so I try to use gentle non-harsh cleansers, and the Prep is just that.
I find it cleans my skin and leaves it feeling hydrated. It just feels nice. Of course, I want to add I always use a cleansing balm to remove my makeup before I go in with the OS-01 Prep.
OS-01 Face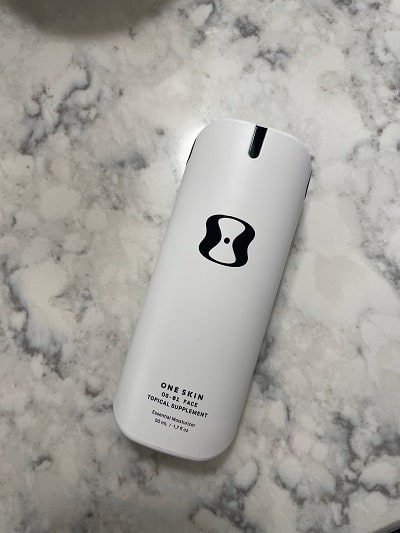 This is a fantastic product. It's lightweight, not greasy at all, it doesn't break me out, it doesn't have a smell, and it leaves my skin feeling soft and hydrated.
I use it to cleanse with a balm, then go in with the OS-01 Prep. Some days I will use a gentle toner and then apply the OS-01 Face. After that, I will let it sit and sink into my skin for at least 10 minutes then I go in with a moisturizer.
OS-01 Eye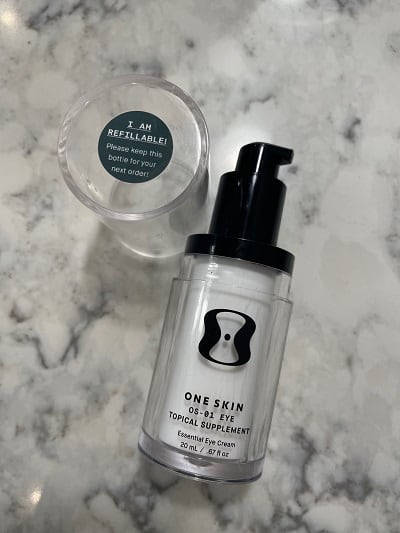 I got this product in mid-April, and I can see a difference in the short time I have used it. As I said with the OS-01 Face, this eye cream is moisturizing, non-greasy, not fragranced, and it feels so hydrating.
I apply this after I use the OS-01 Face.
OS-01 Body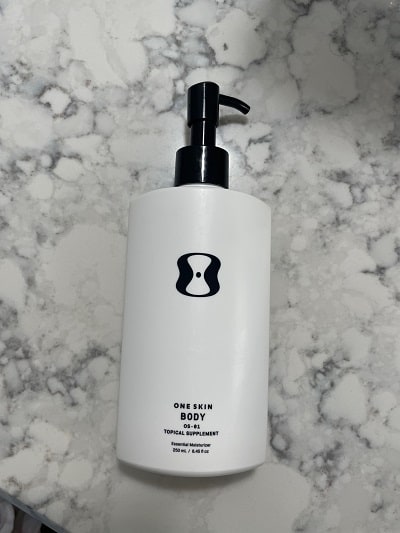 I'm going to start to sound like a broken record, but again this moisturizer is fantastic. It feels superior, there is no crazy fragrance, it's not greasy, and it sinks in immediately.
I haven't been using this on my entire body. I will use it on my chest, neck, booty, back of my hands, and back of my arms.
OneSkin: Pros And Cons
Alright, the piece of info you may have been waiting for.: Pros and Cons.
Listen, I'm going to be fully transparent, this stuff is insanely impressive. I have had such a positive experience using the OneSkin OS-01 products so far.
I haven't had any type of reaction or side effects from using them. In my opinion, they are gentle and of the highest quality. I have used the Cle de Peau Cream and serum, and the OneSkin products are better. Yup, I said it.
I also absolutely love that the brand is cruelty-free and has recyclable packaging.
I think the most significant Pro for me, other than actually seeing a difference in my skin, is the brand's approach to skincare. They aren't about anit-aging or trying to reverse time. They are about skin longevity and preserving skin health.
Let's face it; we are all aging. Why not embrace it?
Finally, my last pro is the subscription option. Going with a subscription allows you to save a little money while not having to worry about ordering. Also, it's so easy to modify. I get reminder texts when it's going to ship, and If I'm not ready for it, I just shoot a test back. They make it as simple as possible.
CONS
As much as I am clearly a fan of all the OneSkin products, a couple of things can be considered cons.
The first one I the price. The OS-01 products are not cheap, but I think the price is justified. This may not be affordable to everyone.
The packaging can be a little wonky. I mean that the first bottle of Prep I had, the pump was not right, and it was coming out from the twist part. Not a HUGE deal but worth noting. I will say, though, when I reordered, they replaced that bottle without me even asking, and the new one worked perfectly without any issues.
RECAP- KEY TAKEAWAYS ABOUT OneSkin
Here are some key points and features that are often associated with OneSkin OS-01:
Targeted Anti-Aging: OneSkin OS-01 is primarily marketed as an anti-aging skincare product. It aims to address various signs of aging, such as wrinkles, fine lines, and skin sagging.
Scientific Approach: OneSkin Technologies emphasizes the scientific basis of their products. They claim to use a proprietary peptide-based formula that is designed to improve skin health and longevity.
Promoting Skin Regeneration: OneSkin OS-01 is said to work by stimulating the regeneration of skin cells, promoting collagen production, and enhancing the skin's natural repair mechanisms. By doing so, it aims to improve skin texture and firmness.
Application and Usage: OneSkin OS-01 is typically used as a topical cream or serum. Applying the product to clean, dry skin and gently massage it until absorbed is advised. The frequency of application and specific usage instructions may vary, so it's essential to follow the recommendations provided by the manufacturer.
Clinical Trials: According to OneSkin Technologies, their products are backed by scientific research and have undergone clinical trials. However, it is essential to review the specific details and results of these trials to evaluate the efficacy and safety of the product.
Individual Results: Skincare products can yield different results for each individual due to variations in skin type, genetics, lifestyle factors, and other variables. While OneSkin OS-01 may work well for some users, it might not provide the same benefits for everyone.
Safety and Precautions: Although OneSkin Technologies aims to develop safe and effective products, it's crucial to consider any potential allergens or sensitivities you may have before using any new skincare product. Always perform a patch test on a small area of skin and consult with a dermatologist if you have any concerns.
Conduct thorough research, read customer reviews (such as mine), and consult with skincare professionals or dermatologists before incorporating any new product into your skincare routine is essential.
Should You Buy OneSkin? Final Thoughts
Yes! I think you should buy OneSkin OS-01 products.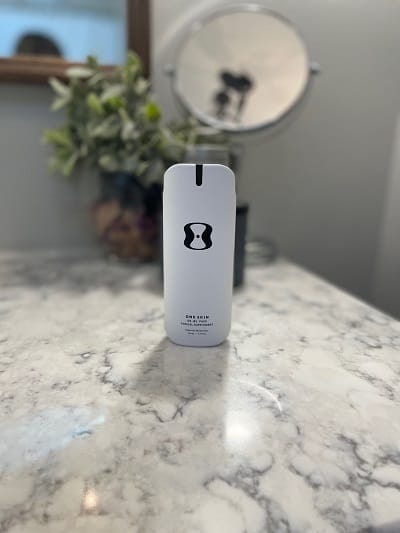 At the age of 40, I am using these products consistently and actually seeing results. I don't think I can say that about any product I have used in the past.
I am so happy with the results I have seen so far, and I'm glad I incorporated it into my skincare routine. I cannot wait to see how my skin looks after using It for more time.
There are so many amazing skincare brands out there, and I genuinely believe OneSkin is up there with the best.
If you struggle to find gentle yet highly effective products, I think trying OneSkin is worth a shot.
For more information on the products mentioned in my review, please visit the OneSkin website
RECENT ARTICLES: