I may earn money or products from the companies mentioned in this post.Please click my Disclosure Policy to learn more
In this NYX Bare With Me Blur Foundation Review, I am sharing everything you need to know about this foundation. If it works for more mature skin or people with an oily skin type. I'll give it all to you: the good, the bad, and the ugly.
Hello, my fabulous friends!
This post is a collaboration with Melanie, the author of Makeup Is Delicious. We both reviewed a different drugstore foundation. You can read her full review of the Revlon Colorstay 24 Hr Longwear Makeup Foundation here.
Today, we're diving into the fascinating world of foundation, The NYX Bare With Me Blur Foundation, to be exact.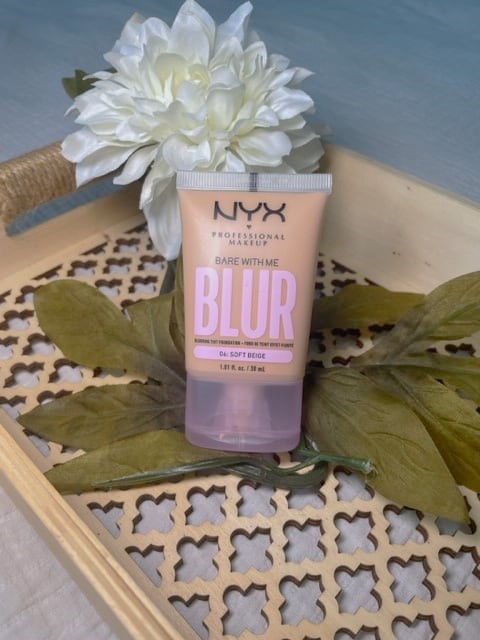 This is where science meets artistry to create that perfect canvas we all desire. But hey, if you're here and fabulous over 40, you're not just looking for any foundation, are you?
You're on a quest for that elusive elixir that tames the shine but lets your inner radiance shine brighter than a disco ball. Yes, we're talking about foundation for our seasoned yet oh-so-youthful friends with oily skin.
Now, don't worry; this isn't a magic potion review, but it might just be the next best thing! So, grab a cup of your favorite anti-aging tea and put on your comfy robe (because self-care is key).
Let's dive into the foundation world for those of us who've lived a little, laughed a lot, and still want to slay the day.
ABOUT MY SKIN
Before I dive into my NYX Bare With Me Blur Foundation Review, I think it's best to tell you a little about my skin type. This way, if you have any similarities, it will help you determine if this foundation will work for you.
Aging/maturing skin. ( I'm 40)
very oily
acne prone
sunspots/acne scars
pink undertones
WHERE TO BUY
This foundation is not available everywhere. I found that out after I visited a few drugstores.
The only places you can purchase the Bare With Me Blur Foundation is
WHAT IS THE NYX BARE WITH ME BLUR FOUNDATION?
The NYX Professional Makeup Bare With Me Blur Tint Foundation is a medium-coverage foundation that blurs imperfections and is infused with skin-loving ingredients.
This is a medium-coverage, lightweight foundation that is allegedly going to blur imperfections, pores, discoloration, and texture.
Basically, this foundation is said to be an IG filter in a bottle.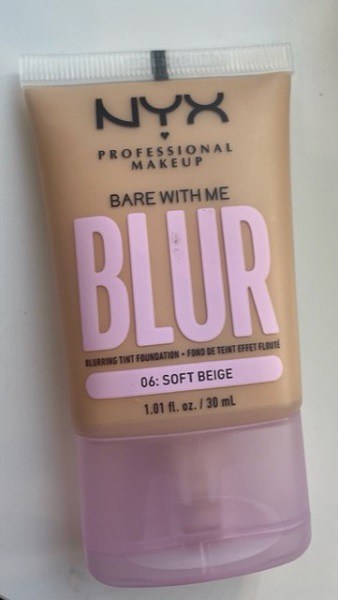 FOUNDATION CALL OUTS AND CLAIMS
Let me fill you in on all the claims the NYX Bare With ME Blur Foundation has.
The lightweight formula delivers up to 12 hours of hydration*
Tint foundation helps minimize the appearance of pores, dark spots, blemishes, and skin imperfections
Blurring formula helps smooth the skin's texture.
Offers up to 16 hours of comfortable, breathable wear**
It helps control shine without an ashy or cakey finish.
Fade and transfer-resistant
Cruelty-Free
Vegan
Clean Ingredients
Available in 24 skin-enhancing shades
*Based on a clinical study.
**Based on a consumer test of 122 subjects.
Information taken for NYX.com
NYX BARE WITH ME BLUR FOUNDATION INGREDIENTS
There are three stand-out ingredients in this foundation meant to leave your skin looking flawlessly smooth and healthy.
Glycerin
Matcha
Niacinamide
Let's delve into why glycerin, matcha, and niacinamide are fantastic ingredients for leaving your skin looking flawlessly smooth and healthy:
1. Glycerin:
Hydration Master: Glycerin is like a tall glass of water for your skin. It's a humectant, It means that it pulls moisture from the environment and brings it into your skin. This hydration helps to plump up your skin, making it look smoother and more youthful.
Barrier Booster: Glycerin also fortifies your skin's natural barrier. By strengthening this barrier, Locking in moisture is crucial for maintaining a smooth, healthy complexion.
Softness Unleashed: As glycerin hydrates your skin, it also softens the outermost layer, known as the stratum corneum. This results in a silky, smooth texture, making your skin touchably soft.
2. Matcha:
Antioxidant Powerhouse: Matcha is essentially green tea on steroids. It's packed with antioxidants, particularly epigallocatechin gallate (EGCG). These antioxidants combat free radicals that can damage your skin and add to signs of aging. By neutralizing these free radicals, matcha helps maintain a healthy, youthful appearance.
Soothing Sensation: Matcha contains anti-inflammatory properties that can help calm irritated skin. This can be especially beneficial if you have redness or blotchiness, leaving your skin looking smoother and more even-toned.
Detoxifying Delight: Matcha can help remove impurities from your skin, promoting cell renewal and a healthy glow. This process can lead to a clearer complexion and a smoother surface.
3. Niacinamide (Vitamin B3):
Pore Minimizer: Niacinamide is a pro at reducing the size of your pores, which can make your skin look smoother. It achieves this by regulating sebum production and preventing clogging, ultimately giving your skin a refined appearance.
Barrier Builder: Like glycerin, niacinamide also supports your skin's barrier function. By enhancing the barrier, it prevents moisture loss, reduces sensitivity, and maintains a smoother texture.
Even Tone Enthusiast: Niacinamide helps to fade hyperpigmentation and even out your skin tone. This not only makes your skin look healthier but also smoother by reducing the appearance of dark spots and blemishes.
Collagen Catalyst: Niacinamide stimulates collagen production, a protein that provides your skin its youthful firmness and suppleness. This can possibly aid to diminish the signs of fine lines and wrinkles, contributing to smoother-looking skin.
Incorporating products that contain glycerin, matcha, and niacinamide, like the NYX Bare With ME Blur Foundation, into your routine can be a game-changer for achieving a flawlessly smooth and healthy complexion.
These ingredients work in synergy to hydrate, protect, soothe, and rejuvenate your skin, leaving you with a radiant and refreshed appearance.
NYX BARE WITH ME BLUR FOUNDATION PACKAGING AND SHADE RANGE
I personally really love the packaging on this foundation. It's basic and nothing fancy.
The foundation is in a squeeze tube. It has cute pink lettering and a semi-transparent top.
I like it because it is lightweight, doesn't take up a ton of space, and you don't have to worry about it breaking. Ultimately making it super travel-friendly.
The NYX Bare With Me Blur Foundation is available in 24 shades.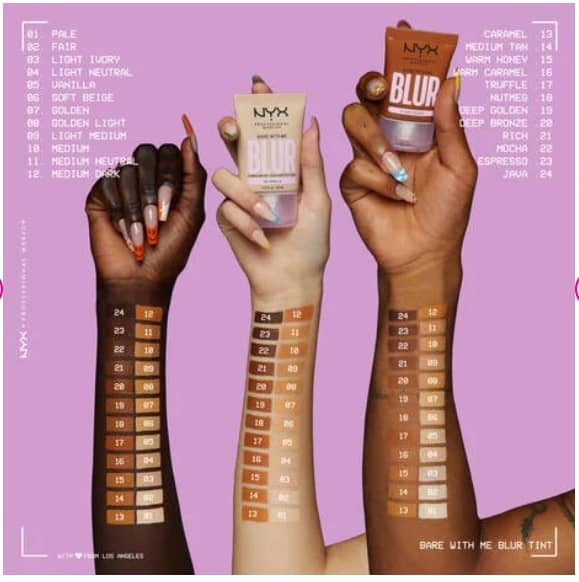 I honestly don't think it's the best range of shades out there, but then again, it's not the worst.
The one thing I have to note, though, is that the shades run so light and look darker in the bottle.
I initially opted to test shade 03, and it was so much lighter than I was expecting. That being said, I ended up choosing 06 Soft Beige, and it ended up being a good match.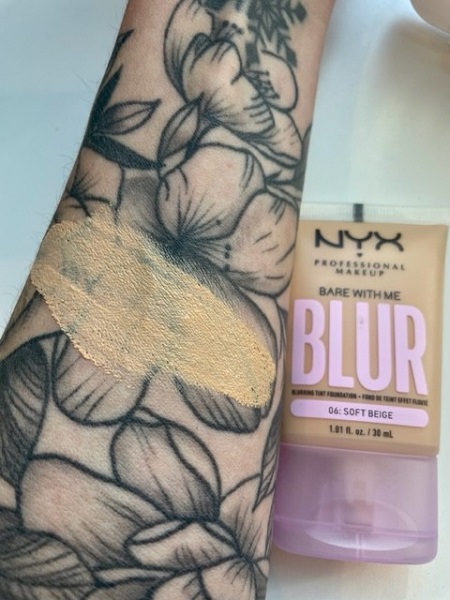 If you have the opportunity to swatch this foundation in-store, I highly recommend doing so. I bought mine from Ulta, where they have testers available.
Shade Comparison Swatches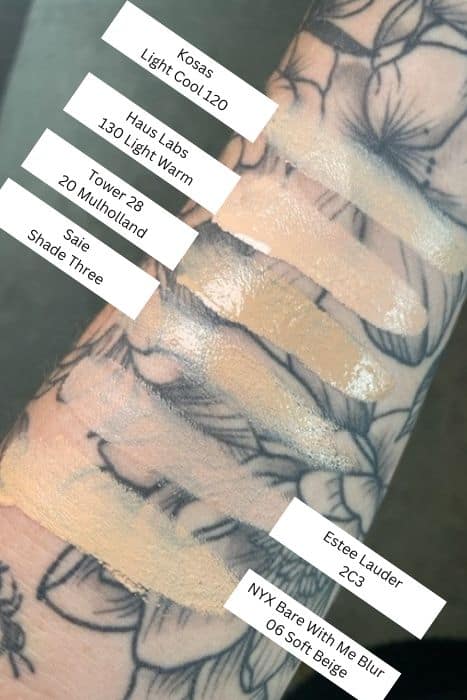 Here are a few foundation swatches to show you how the shade 06 Soft Beige of the NYX Blur compares.
APPLICATION
The application process of a foundation can highly impact the way a foundation looks.
The best way to use the NYX Blur is as follows:
Prep Your Skin: Before applying any foundation, it's essential to start with a clean canvas. Cleanse your face, apply your moisturizer, and allow it to fully absorb into your skin. This step ensures a smooth and hydrated base.
Use a Primer (Optional): If you have large pores or want to prolong the wear of your foundation, you can apply a makeup primer before the foundation. This can aid to create a smoother surface for the foundation to adhere to.
Choose Your Application Tool: You can apply the NYX Bare With Me Blur Foundation with a makeup sponge, a foundation brush, or simply using your fingers. The choice of tool depends on your preference and the finish you desire.
Fingers: Applying foundation with your fingers is a quick and easy method. Make sure your hands are clean, and use your fingertips to dot the foundation evenly across your face. Then, blend it out using gentle, upward strokes.
Makeup Sponge: Dampen a makeup sponge, making sure to squeeze out any excess water. Use a bouncing or stippling motion to apply and blend the foundation. This method provides a natural, airbrushed finish.
Foundation Brush: A foundation brush can provide a more precise application. Use long, sweeping strokes to evenly distribute the foundation on your face. Start in the center of your face and blend outward.
Build Coverage Gradually: The NYX Bare With Me Blur Foundation offers buildable coverage, so start with a small amount and layer it as needed. This approach allows you to achieve your desired level of coverage without overloading your skin.
Blend Thoroughly: Regardless of the application method, make sure to blend the foundation thoroughly, especially around the jawline and hairline. You want a seamless transition between your face and neck to avoid any visible lines.
Conceal Blemishes and Dark Circles (Optional): If you have specific blemishes, dark circles, or imperfections that need extra coverage, use a concealer after applying the foundation. Apply concealer sparingly and blend it into the foundation for a cohesive look.
Set with Powder (Optional): If you have oily skin like I have or want to enhance the longevity of your makeup, you can lightly set the foundation with a translucent setting powder. Focus on areas that tend to get shiny, like the T-zone.
Finish with Other Makeup (Optional): Complete your makeup routine with other products like blush, bronzer, eyeshadow, and lipstick to achieve your desired look.
Setting Spray (Optional): For added longevity and a fresh look, you can finish with a setting spray. This helps to lock your makeup in place and can provide a dewy or matte finish, depending on your preference.
Remember that the key to a flawless application of the NYX Bare With Me Blur Foundation, especially on mature skin, is to start with well-prepped skin, a small amount, and blend the foundation evenly.
Experiment with different application tools to find what works best for your skin type and desired finish.
FINISH
The NYX Blur foundation claims to have a matte finish. I don't 100 percent agree with that, though.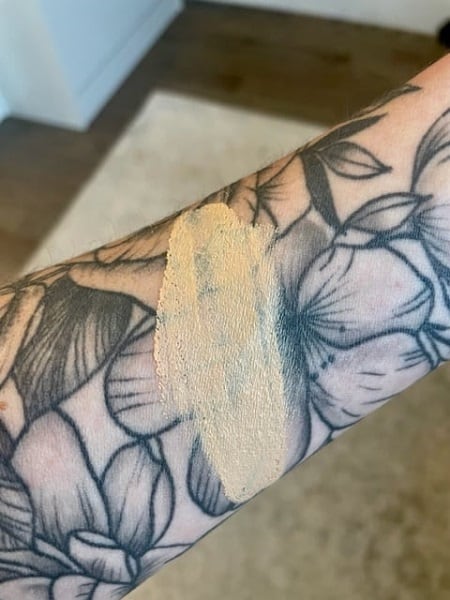 I found that this foundation had a more natural semi-matte finish.
COVERAGE
This foundation is said to have a medium coverage. For me, I consider it light to medium.
This foundation has a thicker consistency, which was a bit concerning the first time I tried it. I thought the thicker it is, the higher the coverage.
This wasn't the case.
Luckily, I started off by applying a small amount, and it spread nicely and didn't feel cakey. It feels lightweight, not heavy at all.
You can layer this foundation to get more coverage, but if you have more, you need to cover, this may not be enough. However, I don't mind having some imperfections peak through.
WEAR TIME
The NYX Bare With Me Blur Foundation claims to have a wear time of 16 hours.
In my experience, I don't believe this is the longest-wearing foundation, especially if you have an oily skin type.
Typically, I apply my makeup around 7 a.m., and by 1 p.m., my face is oily.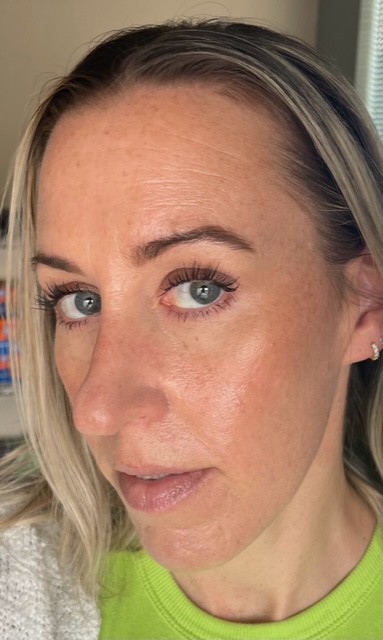 I work out after work around 5 p.m., and I usually don't remove my makeup beforehand. (I, Yes, know, not the best for my skin). But by the time my workout is complete, the foundation is almost gone.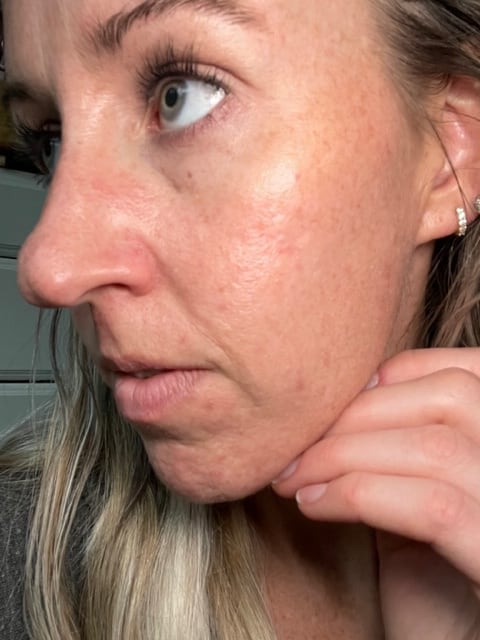 Even if I didn't work out, I found the foundation to disappear as the day progressed.
Overall, I don't find the NYX Bare With Me Blur to be a long-wearing foundation for my aging oily skin.
DOES THE NYX BARE WITH ME BLUR FOUNDATION WORK FOR MATURE SKIN?
I turned forty this year, and though I do not feel my age, my skin is saying otherwise. Yes, I have some fine lines and wrinkles. Although I do not particularly consider my skin to be mature, it is certainly aging.
That being said, I find that some foundations work better on my almost mature, aging skin.
In the case of the NYX Bare With Me Blur Foundation, I think it works fairly well.
I find it to settle into my forehead and laugh lines. But on my fine lines, it doesn't. It almost appears a bit blurred, hence the name of the foundation.
All foundations settle into my wrinkles and fine lines. Knowing this, I go with very light coverage in these areas.
Most times, mature skin is also on the drier side, and with the way this foundation worked on my oily skin, I think it may be a better fit for a normally to dry skin type.
NYX BARE WITH ME BLUR FOUNDATION PROS AND CONS
Here are some pros and cons of the NYX Bare With Me Blur Foundation for mature skin. When choosing makeup for mature skin, there are specific considerations to keep in mind, such as texture, coverage, and how it interacts with fine lines and wrinkles. Here's a breakdown of the pros and cons of this particular foundation:
Pros:
Lightweight Texture: The NYX Bare With Me Blur Foundation is known for its lightweight texture. It doesn't feel heavy on the skin, making it comfortable for mature skin, which may be more sensitive or prone to feeling weighed down by makeup.
Natural Finish: This foundation offers a natural, skin-like finish. It's not overly matte or dewy, which can be ideal for mature skin that may have texture issues or dry patches. It provides a healthy glow without emphasizing fine lines or wrinkles.
Blurring Effect: As the name suggests, this foundation has a blurring effect. It helps to smooth out the appearance of pores and fine lines, which can be a big advantage for mature skin that wants a more youthful look.
Buildable Coverage: The NYX Bare With Me Blur Foundation provides buildable coverage. You can begin with a thin layer and build it up to your desired level of coverage. This is great because it allows you to tailor the foundation to your specific needs, whether you want a light, natural look or more coverage to conceal imperfections.
Cons:
Limited Shade Range: One of the big drawbacks of the foundation is its limited shade range. NYX offers fewer shade options compared to some other brands, which can make it challenging to find the ideal shade match for your skin tone.
Not Long-Wearing: The Bare With Me Blur Foundation is not known for its long-wear properties. If you need your makeup to stay in place all day, especially if you have a busy schedule, you may need to use a good setting powder and setting spray to prolong its wear.
May Not Cover Severe Imperfections: While it offers buildable coverage, it may not be sufficient to cover severe imperfections or very dark spots. You might need to use a separate concealer for extra coverage.
Not Ideal for Oily Skin: If you have mature skin that is also oily, this foundation may not be the best choice. It's more suitable for normal to dry skin types. Oily skin types might find it doesn't control oil well throughout the day.
FINAL THOUGHTS- MY REVIEW OF THE NYX BARE WITH ME BLUR FOUNDATION
I like this foundation sometimes.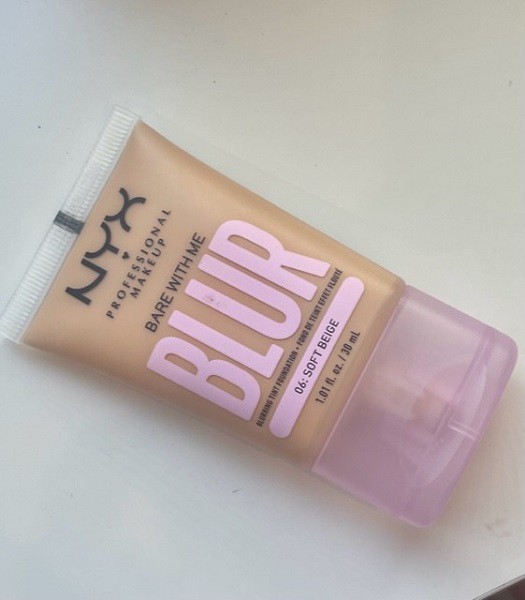 When I first applied this foundation using a beauty sponge, I liked how it looked. But as the day progresses, my oils come barging through. So, it is not a long-lasting foundation for me.
I think the lightweight texture is fantastic, the light to medium coverage is great, and I love the natural matte blurring finish. But it doesn't do my oily aging skin any favors as it wears throughout the day.
If you have oily skin, I'd say try at your own risk. And if you have mature skin, I think you may like this.
So, darlings, let's sum up our thoughts on the NYX Bare With Me Blur Foundation for our beautifully mature faces:
This foundation can be a pretty good pal for those of us in the fabulous "mature skin" club. It's like a comfy cashmere sweater for your face – lightweight, cozy, and flattering. The natural matte finish? Think of it as a soft-focus Instagram filter for your real-life adventures.
But let's not forget our foundation's quirks. It's like that friend who insists on taking group selfies, but they're never the best photographer. The limited shade range might be a bit of a bummer for some, and you might need a few touch-ups during your day-long escapades.
Don't fret, though! If you want to dance through the day with a hydrating partner in crime that blurs a few fine lines along the way, this foundation could be your go-to wingman. Just choose your shade wisely, prime that canvas, and be ready for a bit of mid-day touch-up tango. After all, life's a stage, and our foundation is just helping us shine even brighter!
RECENT ARTICLES: